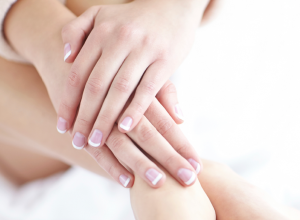 gradyreese/iStock
Manicure
A manicure is a cosmetic treatment for the hands and fingernails. The process usually include a hand soak, a cuticle treatment (with a cuticle pusher), nail clipping and shaping, a short hand massage and application of nail polish. Sometimes manicures include the hands being dipped in paraffin wax, which is a strong moisturizer for dry, cracked skin. Other times manicures include the application of nail charms (rhinestones, diamonds, chains, studs, jewels, etc), and some include the application of artificial nails (acrylics). 
Manicures can be done to shape the nails differently. The various nail shapes that exist include oval, square, square oval, square with rounded corners, pointed, round, and strait with a rounded tip. 
Manicures don't have to be done in a salon or spa. They can also be done at home with the proper tools, which beauty stores like Sephora and Sally Beauty Supply usually carry. The tools include nail cippers, a cuticle knife and clippers, a cuticle stick, a nail file, a nail buffer, nail scissors, an orange stick, and nail art brushes. Supplies usually include nail polish remover, hand cream, cotton balls, hand towels, and nail polish. 
As with pedicures, there is a risk of developing bacterial and fungal infections during a manicure. Therefore, it is recommended that you only visit salons and spas that are highly rated and sanitary. 
Notice concerning medical entries:
Articles having medical content shall serve exclusively for the purpose of general information. Such articles are not suitable for any (self-) diagnosis and treatment of individual illnesses and medical indications. In particular, they cannot substitute for the examination, advice, or treatment by a licensed physician or pharmacist. No replies to any individual questions shall be effected through the articles.
More Articles On This Topic