Black to Basics

Dark Tips Update A Classic French Pedicure

What's black and white and cool all over? This Pinterest worthy twist on a classic French pedicure.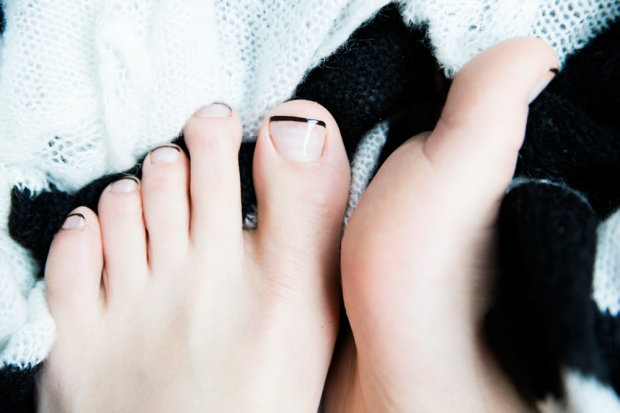 French manicures and pedicures are like the little black dress of the nail art design world: They'll never go out of style, and yet, everyone is trying to give them a modern boost. And just like in the world of fashion, there is a seemingly endless plethora of design options to suit your nail art fancy.
If you don't know where to start when it comes to updating your pedicure look, try this contemporary black tip pedicure design. It's super simple and stays true to the classic French pedicure look in two ways: First by maintaining the "natural base and colored tip" design, and second by conjuring up images of black and white striped tees Parisians sport while riding their bikes up and down various Rues of the city. (Ok, maybe that last part is just us, but still ...)
How To Do A Black Tipped French Pedicure
Achieving this modern French pedicure look (which is technically considered an American pedicure, but who's comparing) is actually quite easy.
Step One: Start out with soft, clean feet and properly trimmed toenails.
Step Two: Paint your nails a soft, milky white with whatever nail polish brand you prefer.
Step Three: Carefully apply black toenail polish to just the tips of your toenails. Alternatively, you can use a black Sharpie pen to draw on the dark tips at the thickness level you desire.
Step Four: Wait a few minutes for your black tips to dry and then finish the look with a clear topcoat to seal in your "edge of darkness" pedicure look.
Hint: You can achieve the same look on your fingernails by doing a black tipped manicure, following the same steps above but on your hands instead of your feet.
Notice concerning medical entries:
Articles having medical content shall serve exclusively for the purpose of general information. Such articles are not suitable for any (self-) diagnosis and treatment of individual illnesses and medical indications. In particular, they cannot substitute for the examination, advice, or treatment by a licensed physician or pharmacist. No replies to any individual questions shall be effected through the articles.