A Shore Thing

How To Keep Your Pedicure Fresh At The Beach

Keeping your perfect pedicure fresh after a day at the beach might seem like it's harder than coasting the waves on a surfboard, but it's actually as easy as saying "Surf's up, dude!"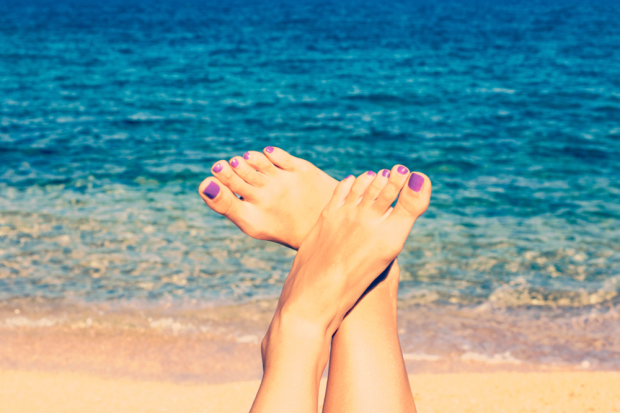 Whoever said there's nothing a day at the beach can't cure obviously never had a pedicure. While the sand, sun and crashing waves are good for the soul, they're definitely not so good for the sole. But luckily, the following steps can help boost your pedi's staying power when you decide to hit the coastline, keeping it fresh and long lasting.
A Cherry On Top Coat
Before you head to the beach, sneak in an extra application of top coat over your pedicure polish. Sand is a great exfoliator for your feet and legs, but the abrasive grains can lead to scratches, chips and dings in your polish. An extra layer of top coat will not only help protect your polish from these sand-related goofs, it also helps guard against fading due to the sun — especially if you choose a top coat that filters harmful UV rays. You may also want to try Gelish shellac or CND's Vinylux, which are both known for being extra long-lasting nail polishes for both manicures and pedicures alike. 
Put Your Feet Up, Pedi Girl
If you have the luxury of time, you may want to consider waiting a full day between getting a pedicure and getting wild at the beach. Nail polish can take up to 24 hours to fully dry, and most chips, scratches and smears happen within that delicate timeframe, especially if the polish is weakened by water and sun. So give both yourself and your feet a treat by spending your first beach day lounging around: Plop down a beach chair, sip your favorite seashore-inspired cocktail and flip through the latest issue of your favorite magazine. You can do all the crazy stuff — beach volleyball, surfing, and swimming in the crashing waves — tomorrow.
Beaches And Cream
Sand and salt water can wreak havoc on your skin and cuticles, rubbing them dry and leading to a scratchy mess. Help keep your tootsies protected by applying a yummy-scented foot cream or cuticle oil to your feet and toes whenever you're chilling out on your towel. If you don't feel like tossing an extra product into your beach bag, SPF cream or lip balm works in a pinch. 
*Editor's Note: Experts recommend that you apply sunscreen to your feet several times throughout the day, whether you have a pedicure or not. This rule also applies to the rest of your body as well, but people often forget about their soles and toes during sunscreen application, so just remember that feet need SPF TLC, too!
A True Happy Ending With Lotion
Nothing feels better than a nice, warm shower at the end of a beach day — except maybe indulging your dried out soles and toes with a thick and luxurious lotion. Once you're done rinsing the sand out of your hair and suit, revive your tired feet with a quick scrub and a generous coat of cuticle balm or foot cream. This pedicure-saving step is especially wondrous if you can find someone else to rub the product into you feet while you sip another cocktail. Aahhhh, a day at the beach really can cure everything!
Notice concerning medical entries:
Articles having medical content shall serve exclusively for the purpose of general information. Such articles are not suitable for any (self-) diagnosis and treatment of individual illnesses and medical indications. In particular, they cannot substitute for the examination, advice, or treatment by a licensed physician or pharmacist. No replies to any individual questions shall be effected through the articles.