Taste of Freedom

American Manicure: A Stylish Update on the Classic French

The difference between an American manicure and a French manicure lies in small details like thin gold stripes, diamonds or other subtle embellishments. So would you rather your nails say "Ooh la la," or "land of the free?"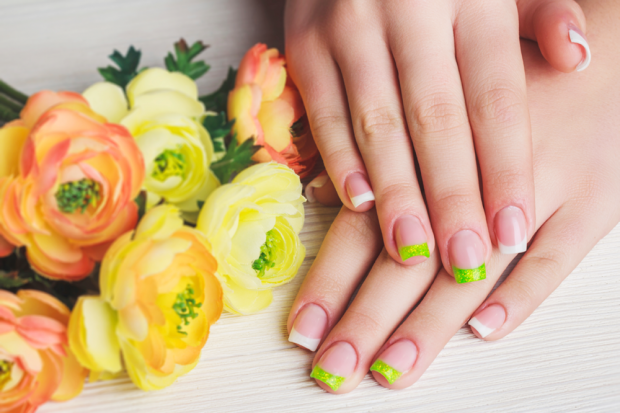 Just like famous French beauties Brigitte Bardot and Laetitia Casta, French manicures and pedicures will never go out of style. But that doesn't mean they can't benefit from an update, and we've got the perfect solution for those who'd like to try a classic with a twist: the American manicure and pedicure.
What Is An American Manicure?
American manicures and pedicures are actually quite similar to French manicures and pedicures, with just a few minor changes. While the classic French style consists of a natural looking clear, pink or nude toned base polish paired with thin white tips, the American manicure style utilizes the same technique but with the addition of color, glitter and other fun touches — all the while keeping the look quite natural.
For example, you can ask you salon or spa to paint a very thin strip of gold directly underneath the French style's signature white tips. Or you can go the DIY route and use a bold color of shellac on your tips rather than the standard white during an at-home pedicure. Whether you use Essie, OPI, CND, or any brand in between, the sky is the limit with American manicures and pedicures. Like the national anthem goes, it really is the land of the free.
Examples Of American Manicures And Pedicures
Here are a couple of examples of what makes an American manicure and pedicure different from the classic French manicure and pedicure.
Notice concerning medical entries:
Articles having medical content shall serve exclusively for the purpose of general information. Such articles are not suitable for any (self-) diagnosis and treatment of individual illnesses and medical indications. In particular, they cannot substitute for the examination, advice, or treatment by a licensed physician or pharmacist. No replies to any individual questions shall be effected through the articles.