Look Ma: All Hands!

Impressive and Super Simple DIY Nail Art Design Ideas

Make a splash this summer with these fun mani-pedi nail art design tricks ranging from ombre, graffiti, splatter, polka dots and more.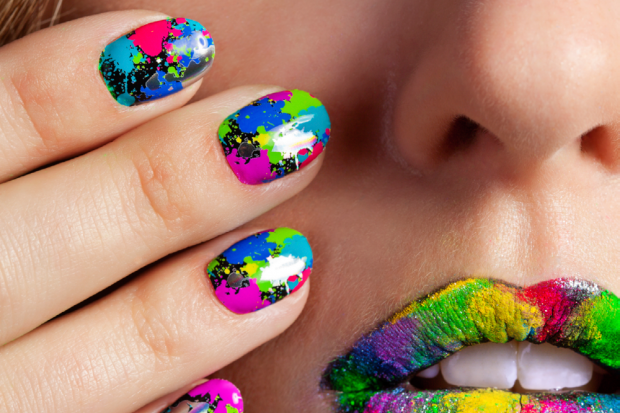 Ready to take your nails to the next level but don't know where to start? Try these easy, at-home nail design tricks that fool everyone into thinking you spent hours (and dollars) at the salon. Bonus: They can be done on both the fingernails and the toenails for a cohesive mani-pedi look.
Make A Splash
Create an instant fun look by literally splattering polish on your nails. All you have to do is paint the nails a base color of your choice and then use a brush, straw or other long, thin object to basically throw or blow splats of color on your nails. If you polish is too thick, thin it out a bit before splattering with some nail polish remover. You can tape off the skin around the nails or use a nail polish remover pen to get rid of the color from the sides of the fingers.
A gradual gradient of color isn't just for your hair. The look is hot for your nails, as well. Though it seems like it would be a complicated look to achieve, it's actually quite simple. All you need to do is start by painting your nails in a light the color of your choice. Next, pour two or several different colored nail polishes next to each other and gently swirl the colors together with a nailbrush or bobby pin (only where the colors meet). Finally, dab a small makeup or nail sponge onto the mix of color and then dab the color onto your nail, being sure to gently-and-oh-so-slightly move the sponge up and down a bit so the ombré look is created.
Designer Christian Dior once released a post-wartime polka-dot-spotted collection meant to "make women extravagantly, romantically, eyelash-battingly female" again. You can achieve the same effect for your fingernails and toenails by painting the nails the color of your choice and then using a bobby pin to "dot" on a different color of polish to create the classic polka dot look.
Amp up the street smarts of your fingernails and toenails by painting the nails a dark color and then haphazardly brushing on swipes of metallic polish of your choice. It's best to wipe the brush of the metallic polish against the side of the bottle several times to thin out the lacquer before applying. This way, you see the brush strokes that ultimately give the nails the graffiti look you're going for.
You can also achieve very thin vertical or horizontal stripes the same way. Once your base coat has dried, use a fan brush to apply one or several colors across the nail.
If you'd like to take your French manicure or pedicure to the next level or simply want to cover up any mistakes you may have made in achieving a straight white line, use a glitter pen or a thin stripe of glitter polish on the line where the white meets the pink polish. It's an instant way to transform a classic into a modern look that will have heads turning.
Sharpie Up
It may not be the healthiest way to achieve glam nail designs, but using Sharpie markers is a quick and simple way to create instant, at-home nail art. Sharpies come in an array of fun colors (including silver and gold) that allow you to add precise designs to both your fingernails and toenails.
Scotch tape is for more than just wrapping presents. Use the clear tape to create zigzags, sharp triangles and other designs by first painting your nails a base color of your choice, then applying the tape to the (dry) nails, painting over the tape and then lifting the tape to reveal the design underneath. Just be sure to wait at least an hour before applying the tape to your painted nails to be sure the base coat is completely dry.
There is a simple way to create countless patterns on your nails without being a master artist. All you need is an old piece of lace or any other type of fabric woven loose enough to create a pattern if painted over. Just wrap the fabric around your finger and use a makeup sponge to dab the nail polish of your choice over the fabric. Be sure to use new bits of the fabric on every nail to avoid the pattern from getting mussed up by wet polish.
Transform your fingernails and toenails into precious stones or into fierce tigers by simply painting the nails a base color of your choice and then dabbing them with a rolled up piece of plastic wrap painted with a metallic polish. The splotches of metal will make your nails look like amber, agate, quartz and other gorgeous gemstones, and if you add a small jewel "eye," they could even look like tigers!
Notice concerning medical entries:
Articles having medical content shall serve exclusively for the purpose of general information. Such articles are not suitable for any (self-) diagnosis and treatment of individual illnesses and medical indications. In particular, they cannot substitute for the examination, advice, or treatment by a licensed physician or pharmacist. No replies to any individual questions shall be effected through the articles.