Yum, Yum, Sugar Spun

Spun Sugar Cotton Candy Nail Art Tutorial: Carnival Craving

Spun sugar nails are a fun way to bring a cotton candy nail art look to your manicure and pedicure. Perfect for a sweet brunch or a fun-filled day at the carnival or amusement park.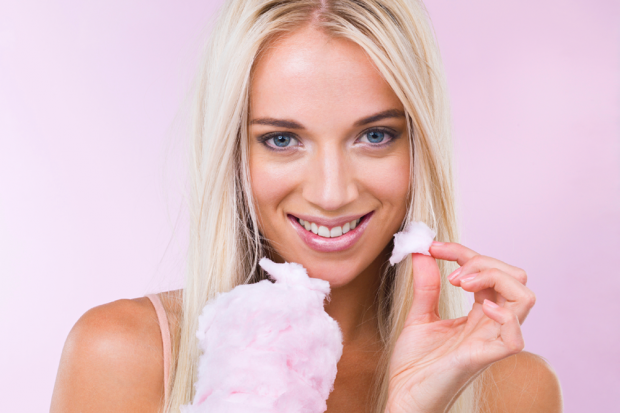 The nail art world is a virtual rollercoaster ride, with trends constantly climbing in popularity only to quickly come crashing down into obscurity. But unlike say, CND Vinylux or stamping (both of which are awesome, but seem to be slipping in popularity in some circles), the spun sugar nails manicure and pedicure look is still going strong.
Part playful, part delightful, the carnival cotton candy nail polish look is actually quite simple to achieve. Here's a step-by-step guide to giving your nails an indulgent treat.
Real Life Photos of The Spun Sugar Nail Look
Spun Sugar Nails Step One: Gather Your Materials
To create spun sugar nails, you'll need:
A clear base coat
A base color of your choice 
One to four nail polishes in the colors of your choice and any brand of your choice, from Essie, to OPI, to Sally Hansen, to Deborah Lippmann and everything in between. The more colors you have, the more "rainbowesque" your nail look will become. 
A paper plate, baking paper or other disposable flat item you don't mind getting polish on
Toothpicks
Clear topcoat 
Optional: Nail polish remover and Q-Tips or a nail brush
Spun Sugar Nails Step Two: Prep Your Nails
Apply a clear base coat to all of your nails. Once it is dry, paint all of your nails in the base color of your choice.
Spun Sugar Nails Step Three: Get Drizzle Happy
Take the "spun sugar" nail colors of your choice and make a small puddle of each on your paper plate. Wait several minutes or until the lacquer begins to become thick and tacky, and then take a toothpick and dip it into one of your colors. When you lift the toothpick up from the polish, the color should come with it in a thin, floss-like state that can be dragged across your nails. 
Going one color at a time, one nail at a time, continue dipping your toothpick into the lacquer and "flossing" your nails with the drizzle of color, being cautious around each cuticle and keeping the drizzle as thin as possible. When you're done with one color, move on to the next until you've used all your colors and have given all your nails the glam look. 
Hint: The thinner the strips of polish, the more they'll resemble spun sugar. 
Spun Sugar Nails Step Four: Seal It With A Kiss... Of Topcoat
Once you've achieved the spun sugar look of your dreams, seal it up and make it last by applying a topcoat to each nail. Depending on your drizzle skills, you may want to use a Q-Tip or nail brush dipped in nail polish remover to clean extra drips on each cuticle and surrounding nail skin. And voilà: Carnival cotton candy nails that will win you way more than a teddy bear on the midway. 
Photos: Real Life Examples of Spun Sugar Nails
 
Notice concerning medical entries:
Articles having medical content shall serve exclusively for the purpose of general information. Such articles are not suitable for any (self-) diagnosis and treatment of individual illnesses and medical indications. In particular, they cannot substitute for the examination, advice, or treatment by a licensed physician or pharmacist. No replies to any individual questions shall be effected through the articles.