Homemade Wonders

DIY Gifts For The Feet
Wanna spoil the feet of someone special? Try one of these DIY gifts guaranteed to perk up the most tired of tootsies.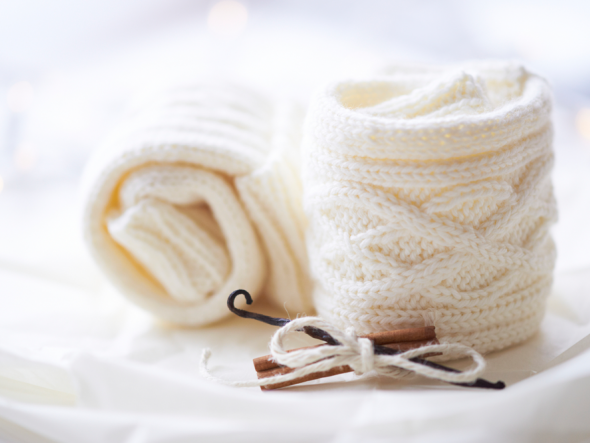 The ultimate way to show someone you care is by spoiling his or her feet with all the gusto you can muster. After all, most people's feet are overworked, underappreciated and in serious need of some ultimate TLC. But no need to worry about having to shell out big bucks for a professional foot massage or something equally expensive. Just try one of the following DIY gifts for feet. All of the homemade gifts in the gallery above can be created at home, and each of the DIY gifts for feet will bring a smile to your loved one's face and a bounce to his or her step — guaranteed! 
Homemade Pumpkin Foot Scrub
We all wish Starbuck's pumpkin spice latte season would last forever, so preserve the goodness by whipping up a homemade pumpkin foot scrub for your special someone. The seriously hydrating recipe, which you can find here, exfoliates rough skin, promotes new cell growth and is packed with vitamins A, B, K, and E. Just mix your ingredients together, place it in a mason jar and tie with a gorgeous ribbon.
Shoe Refresher Sachets
Know someone with smelly feet? Freshen up their shoes (their lives, really) with some homemade shoe sachets. Simply combine a small amount of baking soda and arrowroot powder with a few drops of an aromatic essential oil of your choice. You can also add dried flowers and herbs, if you so wish. Cut off the feet of a pair of nylons, fill the homemade nylon "pouches" with your odor-fighting mixture and tie each with a pretty ribbon. And voila! You can also use small burlap sacks or small pieces of fabric purchased at a craft store instead of nylons, if you'd prefer to give your homemade gift a different spin.
DIY Nail Polish
The nail polish world has slowly been modernizing with the reduction of harmful chemicals typically found in lacquer (formaldehyde, toluene, phthalates and bisphenol A, specifically), but many popular brands still contain these dangerous substances. To be on the safe side, why not spoil your loved ones with non-toxic, DIY nail polish? All you have to do is mix eye shadow or any other makeup powder into a bottle of water-based, non-toxic clear nail polish until you achieve the color you desire. DIY gifts don't come any easier. 
DIY Knitted Slipper Socks
Knitting isn't just for grannies anymore. It has become quite a trendy pastime with even the most domesticity-reluctant fashionistas trying their hand at the needle and yarn practice. We admit this DIY gift idea might not be the easiest to achieve at home, but a with a little help from a knitting how-to book or YouTube video, anything is possible.
Homemade Foot Soak
Treat your loved one to a homemade foot soak they can enjoy with the simple addition of warm water. For a DIY winter foot bath, add 2 cups of mulled cider, 2 star anise pods, 1 cinnamon stick, 2 orange wheels and several drops of cinnamon essential oil to a large mason jar. For a DIY summer foot bath, mix epsom salt with colorful dried flowers and aromatic herbs in a mason jar.
Tie the jar with a beautiful ribbon and add a small note to your gift of gifts instructing the receiver to mix the homemade foot soak essentials with enough warm water to fill a small foot basin. 
Hungry for more homemade footbath ideas? Check out these Warming Winter Foot Soaks.
Foot Jewelry
A quick search for "foot jewelry" on Pinterest will show you that adorning the feet with beads, sparkles and other pretty objects isn't just for foreign cultures anymore; the foot jewelry trend has taken on an entirely new audience. And it's surprisingly easy to make certain types of foot jewelry on your own with just some beads and a little stretchy cord. The trick to making the piece stay on the foot is to make what kind of resembles a figure 8, with one side large enough to fit around the ankle and the other side small enough to just slip over a toe. You can also use feathers and stretchy cord for a similar effect with a fun musical festival vibe. 
Foot Massage Oil
A professional foot massage is one of the most luxurious gifts money can buy (in our opinion, anyway). But if you'd rather stick to a DIY theme, then gifting a homemade foot massage oil is the next best thing. It's also super simple to make on your own: Just mix organic coconut or almond oil with several drops of an aromatic essential oil of your choice and place in a beautiful container. Whether or not you actually perform a foot massage to go along with your gift is entirely up to you — but we'd venture to say the receiver would absolutely love it.
Notice concerning medical entries:
Articles having medical content shall serve exclusively for the purpose of general information. Such articles are not suitable for any (self-) diagnosis and treatment of individual illnesses and medical indications. In particular, they cannot substitute for the examination, advice, or treatment by a licensed physician or pharmacist. No replies to any individual questions shall be effected through the articles.