Literally Nail Ladies Night

Throw A Girls Night In Pedicure Party

Here's how to throw the ultimate girls night in pedicure party that will leave you and your friends feeling relaxed, glam and fabulous.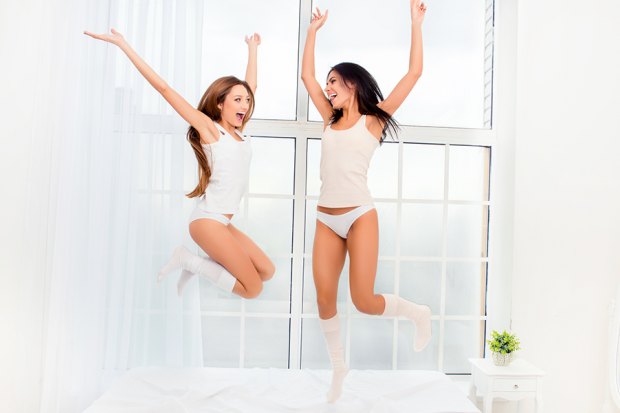 With pretty much everyone convinced that staying in is the new going out, searches for girls night in ideas are through the roof. And though you'll certainly find plenty of fun activities you and your ladies can do at home, a girls night in pedicure party is the ultimate girly evening. 
Reminiscent of slumber parties from your middle school days, getting together to paint your tootsies is a nostalgic blast from the past. And not only will it leave you thinking back to teenage wonders like TRL and Mean Girls, a pedicure party will leave your feet feeling pretty magical, as well. 
READ MORE: Find Out How Sex and the City Star Sarah Jessica Parker Prefers Her Pedicure Parties
Pedicure Party Step One: Set The Scene
If your friends are worth their salt, they're chill and don't expect you to roll out the red carpet for a casual ladies night at home. But because it doesn't take much effort to set the stage for a pedi party, you can give them the A-list treatment anyway. Here are some ideas to give your foot-centric gathering a special touch.
Supply Each Girl With Her Own Foot Soak Basin: Head to the dollar store or any other equally affordable discount shop and purchase colorful plastic bins for each of your friends. This way, you can all enjoy the foot soak part of the pedicure (the best part, hello!) together.
Be The Perfect DJ: Throw together a Spotify playlist of the tunes that were in rotation during your teenage days. 
Create Mood Lighting: Make like a soothing spa and light several candles to give your girls night a relaxing vibe. Extra points if they smell as yummy as that Bath & Body Works lotion you all wore in junior high … 
Whip Up Spa Treats: You could put the emphasis on the party part of your shindig and create some special cocktails for the occasion. Or you can give the gathering more of a wellness retreat feel by creating a healthy drink like this rose, strawberry and lemon infused water.
Pedicure Party Step Two: Gather Your Pedi Materials
There are a million types of pedicure tools you could supply at your girls night in gathering, but here are the must-have basics:
Plenty of extra towels
Nail polish remover
Cotton pads
Exfoliating foot scrub (sugar works, but we suggest one of these DIY foot scrubs)
Lotion or coconut oil
Nail clippers
Clear base coat and top coat
Several nail polish colors to choose from
Pedicure Party Step Three: Let The Fun Begin
All you have to do now to enjoy your girls night in pedicure party is sweetly arrange all your pedi basins and tools, set out your cocktails or smoothies, push play on that Spotify playlist, and voilà — a ladies night to remember. This is of course assuming you know how to give yourself the ultimate DIY pedicure because (like us), you've gone to the nail salon a million times. But no worries if you or your girls need a few pointers. All you have to do is follow these steps for a DIY pedicure — French tips being completely optional. 
Notice concerning medical entries:
Articles having medical content shall serve exclusively for the purpose of general information. Such articles are not suitable for any (self-) diagnosis and treatment of individual illnesses and medical indications. In particular, they cannot substitute for the examination, advice, or treatment by a licensed physician or pharmacist. No replies to any individual questions shall be effected through the articles.