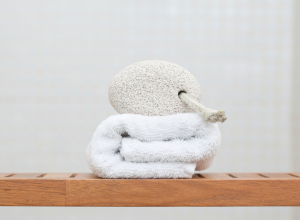 Maartje van Caspel/iStock
Pumice Stone
A pumice stone is a porous piece of volcanic rock used as an abrasive tool to remove hard skin. Pumice stones are generally used on the bottom of the feet and heels after a foot soak or during a pedicure to scrub away calluses, corns and dead skin. They can also be used on rough knees and elbows. 
Pumice forms when volcanic lava mixes with water and hardens. The porous material that is created serves as a perfect exfoliating tool that gently smoothens the skin without scratching it. However, rubbing a pumice stone on your skin too hard could result in small skin tears that can become infected, so podiatrists recommend using gentle circular motions while you slough away the unwanted skin — even while scrubbing a tough callus.
Regular use of a pumice stone two to three times per week can significantly improve the appearance of dry, rough skin. However, it may take several treatments before callused skin is completely smoothed. 
Pumice stones are reusable as long as they are thoroughly cleaned after each use with soap and water and then set out to dry. Every couple of weeks, you may want to boil the stone for about five minutes to make sure it's not harboring any bacteria. Pumice stones need to be replaced when they become too smooth to be effective or if they wear away into a piece that's too small to comfortably hold. You can find pumice stones at most grocery and drug stores. 
Notice concerning medical entries:
Articles having medical content shall serve exclusively for the purpose of general information. Such articles are not suitable for any (self-) diagnosis and treatment of individual illnesses and medical indications. In particular, they cannot substitute for the examination, advice, or treatment by a licensed physician or pharmacist. No replies to any individual questions shall be effected through the articles.
More Articles On This Topic