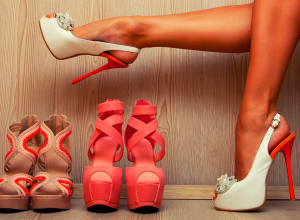 Violanda28/iStock
High Heels
High heels are a type of footwear in which the shoe is constructed to make the heel section of the foot significantly higher than the toe part of the foot. Heels are often worn by women in order to look and feel taller, slimmer and sexier. But some men wear heels, as well. Whatever the gender, wearers agree that heeled footwear generally make everything look better, whether it's strappy sandals with dresses to ankle boots with jeans.
Types of Heels
There are countless types of high heeled shoes (sometimes called pumps), which are often thought to have originated during medieval times to help keep horse riders' feet from slipping out of stirrups. Some include:
Kitten Heels: A shoe with a short, slim heel that does not exceed 2 inches in height
Stiletto Heels: A shoe with a slim heel that exceeds 2 inches
Wedges: A shoe with a raised heel that simultaneously occupies all of the space under the entire foot, including the arch
Slingback Heels: A heeled shoe that offers only a flexible strap at the back of the heel and ankle area
Peep Toe Heels: Heeled shoes constructed with a small "peep hole" at the end of the toe area
Platform Heels: Heels in which the toe area is also raised; often accompanied by heels that are more than 6 inches in height
Heels can also be made out of a variety of materials, including leather, suede, plastic, lace, rope and faux leather.
Popular Heel Brands
Nearly every shoe company manufactures heels, considering it's such a popular type of footwear. However, some companies and designers are known for their heels. Some of these include Christian Louboutin, Manolo Blahnik, Jimmy Choo, YSL, Vince Camuto, Franco Sarto and Bandolino.
The Pros and Cons of Wearing Heels
High heeled shoes have created quite a controversy, with many doctors warning that stilettos can lead to serious health issues like bunions and back pain. Despite the warnings, over 70 percent of women will wear heels at least once in her life.
The Pros
Heels, especially stilettos and platform heels, have become associated with sex and sexual fantasies, leading wearers to feel more desirable in this type of shoe
Heels give the aesthetic illusion of a longer, more slender body and legs
Heels make the feet appear smaller
Heels often change a person's posture, forcing them to change their gait and stand more upright
Heels attribute to some wearers feeling more confident and sexy
The Cons
Heels often cause foot, toe, muscle and tendon pain
Heels can cause foot deformities like bunions and hammertoes
Heels can lead to back pain
Heels increase the likelihood of falls, sprains and bone fractures
Heels can cause knee pain and joint problems
Over time, heels can alter a person's gait and lead to overall bodily pain
For more information on how to choose the right high heels for you, check out our article Stiletto Savvy: How To Shop For High Heels
Notice concerning medical entries:
Articles having medical content shall serve exclusively for the purpose of general information. Such articles are not suitable for any (self-) diagnosis and treatment of individual illnesses and medical indications. In particular, they cannot substitute for the examination, advice, or treatment by a licensed physician or pharmacist. No replies to any individual questions shall be effected through the articles.
More Articles On This Topic