Peacock's Got Nuthin' On These

Katy Perry Unveils Her New Shoe Collection And It Is CRAZY

Pop superstar Katy Perry officially unveiled her brand new collection of shoes, and there's a wild statement shoe to please just about everyone.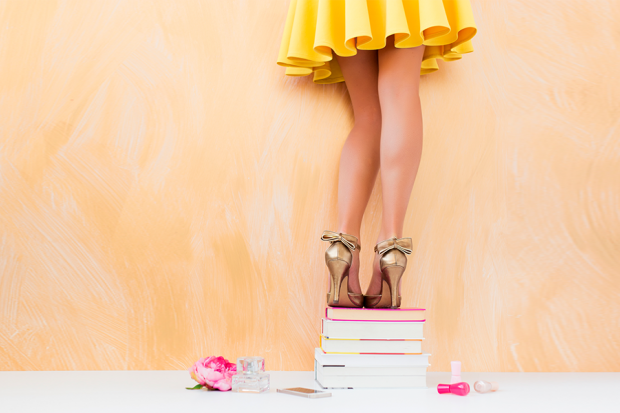 Get ready to Roar, because Katy Perry's new shoe collection is a Teenage Dream and then some.
Perry Shoes On The "Rise"
The pop superstar debuted her upcoming line of bright, kitschy shoes in Las Vegas this week, and shoe lovers will be happy to know the collection includes everything from Rubix cubes, to fruit charms, to pom-poms, to cigars, to racecars, to lucite and SO much more. The shoes — flats, sandals, sneakers and amazingly manageable high heels — are like candy and toys on steroids.
In short, Sex And The City's Carrie Bradshaw better move over, because a new shoe queen is in the house!
"It's been a creative goal of mine to be a real contributor in the affordable fashion space. Launching a footwear collection felt like a natural first step for me," Perry told WWD. "After years of investigating and researching partnerships to find the right fit for the debut of my line, I found that Global Brands most resonated with my artistic ideas. They understand my vision, my eye for detail, and have the international reach and resources to bring my canvas of ideas to life."
Check out all of the new Katy Perry shoes via Fun magazine, and start planning some wild outfits for spring, because the "Rise" singer's collection via Global Brands Group will hit stores on February 16, 2017.
Notice concerning medical entries:
Articles having medical content shall serve exclusively for the purpose of general information. Such articles are not suitable for any (self-) diagnosis and treatment of individual illnesses and medical indications. In particular, they cannot substitute for the examination, advice, or treatment by a licensed physician or pharmacist. No replies to any individual questions shall be effected through the articles.