When The Shoe Fits...

Stiletto Savvy: How To Shop For High Heels

Transform your love-hate relationship with high heels to a love-love bond by learning these shopping, comfort and hurt-free-fit tricks and tips.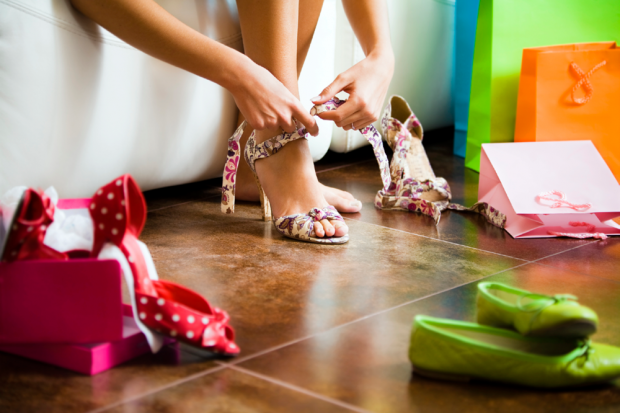 It might seem like feeling comfortable and pain-free in sexy high heels and stilettos is a magical myth right up there with unicorns, but it truly is possible to feel good in your pumps if you follow these genius shopping tips — helpful for both first-time heel buyers and seasoned stiletto vets. 
Top Tips For Heel Buying: Shopping Pre-Game
Here are a few things to keep in mind the next time you hit the mall for a new pair of sky-high pumps:
Always try to shop for shoes in the afternoon or evening. Your feet naturally swell over the course of the day, and this is when they're at their biggest.
Have your feet measured so you know your true numbers. Not only can your shoe size change over the years, your feet can actually be two completely different sizes. Use a Brannock foot measuring device at any department store to uncover your exact shoe size.
Understand that all shoes are made differently, so you may be a size 7.5 in Bandolino boots and a size 8 in Alfani pumps. But never purchase heels or stilettos based on size alone — for maximum comfort, the shoe needs to fit your foot, not the other way around.
What To Look For In Heels Before You Buy
Now that you have some shopping pre-game tips under your belt, there are some things to keep in mind once you spot a perfect pair:
Overall Quality: The quality of a heeled shoe can make a huge difference in its comfort, and quality doesn't necessarily come along with expensive brands. Just because it's a known name or costs a pretty penny doesn't automatically mean it's well made.
Soles: Examine how the sole of the shoe is attached. If it is glued on, make sure the seam is smooth, there aren't any glops of glue and the sole won't easy peel away from the shoe in the months to come. Similarly, if the sole is stitched on, check to make sure the stitching is strong and even.
Lining: Check out the lining inside the shoe. High quality high heels almost always have insoles made of leather that wrap around the entire inside of the shoe for maximum comfort. Natural materials like leather absorb moisture and allow your foot to breathe. Conversely, synthetic materials that low quality shoes are often made from doesn't absorb moisture, which creates a slippery surface for your foot that could potentially cause painful rubbing and burning on the bottom and sides of your feet, as well as calluses, blisters and foot odor. 
Insoles: Carefully examine the shoe's insoles to be sure they're firmly attached to the bottom on the shoe. The insoles should also be made of leather or other natural materials to reduce foot sweat, slippage and blisters. Bonus if the insoles are padded, as that will give your foot extra cushioning and help boost overall comfort. 
Material: Note what kind of material the high heels are made of. Natural materials like leather and suede are the best, as they're soft, flexible, comfortable and allow your feet to breathe. Synthetic materials like plastic, nylon, rubber and patent leather can quickly become uncomfortable and lead to foot sweat that causes slippage inside the shoe, rubbing, burning, blisters and foot odor. 
Heel: Look for a balanced heel that helps evenly distribute your weight from you heel all the way to your forefront. Stilettos and wedges are good picks, as they usually have a toe and forefront platform area that is more on level with the heel height than traditional pumps. Additionally, check out the heel width: The wider the heel, the more stable and comfortable the shoe will be. 
Toe Box: Be sure the toe box of each pump is wide enough for you to freely wiggle your toes, which will help reduce your chance of developing foot pain, bunions and blisters. Similarly, if you choose open toe or peep toe heels or heeled sandals, make sure your toes aren't squeezed tightly together and your foot isn't slipping forward and out of the end of the shoe, which will create pain, rubbing and blisters after extended wear.
Additional Heel Buying Tips
Avoid buying a pair of pumps just because they're beautiful. If they are uncomfortable, don't fit correctly or are too high for heel walking abilities, you'll either rarely wear them or put yourself through unnecessary pain. 
Don't be blinded by brand and assume that if it's expensive or if a celebrity wears or endorses it that it's a good pair of shoes. A label doesn't mean anything when it comes to how comfortable a shoe is or how it will fit your foot — whether it's a Louboutin or not.
Be careful with slingback heels, strappy heels, buckles and any shoe with an ankle strap, all of which can cause uncomfortable rubbing and squeezing. 
Remember that the height of the heel isn't what makes stilettos and pumps sexy; it's how you carry yourself in the shoe. Confidently strutting in a pair of low, comfy kitten heels is much sexier than nervously hobbling around in ill-fitting, sky-high stilettos. 
Notice concerning medical entries:
Articles having medical content shall serve exclusively for the purpose of general information. Such articles are not suitable for any (self-) diagnosis and treatment of individual illnesses and medical indications. In particular, they cannot substitute for the examination, advice, or treatment by a licensed physician or pharmacist. No replies to any individual questions shall be effected through the articles.