Couture Comfort

FINALLY: Sexy Shoes That Don't Cause Bunions and Foot Pain

Looking to strut your stuff in sexy stilettos without having to worry about foot ailments like bunions, plantar fasciitis and hammertoes? A unique shoe company has a collection just for you.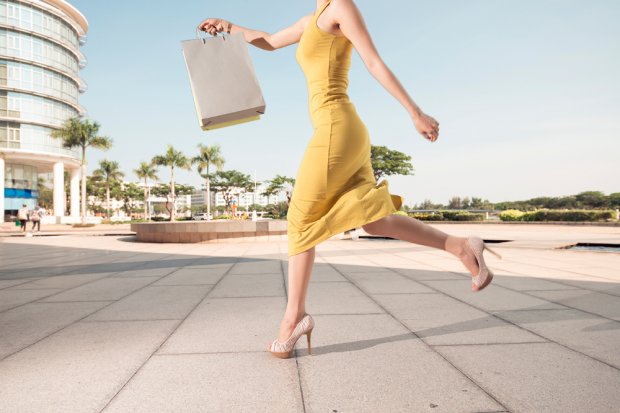 Doctors have been warning women for years that wearing designer, high heeled shoes and stilettos is one of the leading causes of bunions (hallux abducto valgas), but that hasn't stopped most from throwing on their Louboutins and pointing their middle fingers podiatrists' way. After all, comfort shoe brands like OrthoFeet and Abeo mean well with their collections of biomechanical, supportive footwear — but the doctor-approved orthopaedic shoes are a far cry from sexy. So, what's a fashion-forward woman with a bunion, plantar fasciitis, hammertoes or calluses to do? Check out Ilene Berg Shoes, for starters.
How Illene Berg Shoes Reduce The Formation Of Bunions
Fairly new on the market, Ilene Berg footwear employs patent pending German engineered technology that reduces impact and stress on the foot — all the while maintaining a sexy and stylish look that companies like Fidelio and Acropedico just don't offer.
"While there are 'sexy, stylish' shoes available on the market and 'comfort' shoes, companies are just not combining those qualities into one product, so women are settling to either be uncomfortable or unstylish," states the footwear line's creator, Ilene Greenberg. "For women who choose to wear a sexy pair of high-heeled shoes — and most women do — they know at some time during their wear, their feet are going to hurt. Yet, we still crave this fashion even though the pain means we may be exacerbating foot injuries either immediately or over years of abuse. I was one of those women. For the longest time, I continued to cram my foot into stylish shoes, never thinking of the potential consequences. Over the years, I experienced everything from blisters to toe cramping to even more permanent issues. Now it is even more difficult to find a stylish shoe."
Left frustrated by the fact that she couldn't find high heeled shoes that fit properly and could be worn without causing debilitating pain, Greenberg founded Ilene Berg Shoes, which offers sexy, stylish heels with patent-pending comfort stretch panels, ultra-cushioned footbeds, reduced slope and a reinforced heel for a safer, more confident walking experience.
And you know what they say: If the shoe fits... Wear 'em!
Notice concerning medical entries:
Articles having medical content shall serve exclusively for the purpose of general information. Such articles are not suitable for any (self-) diagnosis and treatment of individual illnesses and medical indications. In particular, they cannot substitute for the examination, advice, or treatment by a licensed physician or pharmacist. No replies to any individual questions shall be effected through the articles.