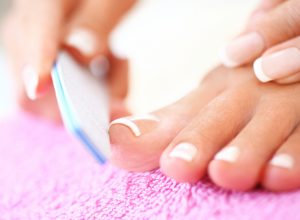 gilaxia/iStock
French Manicure/Pedicure
A French manicure or pedicure is a specific style of painting the nails that consists of a natural looking clear, pink or nude toned base polish paired with thin white tips. It can be achieved on natural nails as well as on acrylic or artificial nails. 
Jeff Pink, founder of the nail polish brand Orly, is rumored to be responsible for branding the term "French Manicure" in the 1978, but the look is believed to date back several decades before that, as classic Hollywood stars were sporting the look in the 1930s. While nobody is positive where the manicure look began, the rumor is that it was created for the fashionistas living in Paris during the early part of the 20th century. Some, however, speculate that the word "French" was added merely because it makes anything seem glamorous and chic. Pink's opinion: He created the first DIY French manicure kit in the 70s for Hollywood actresses who needed shades to match every outfit, and the term arose when the au natural look was first seen on the Paris runways.
"I used to sell beauty products to Hollywood studios. The directors would complain about how long it would take to change the nail colors on the actresses to match their wardrobes for different scenes," Pink told the New York Times. "They asked me to make a color that would go with everything. I thought of using white polish on the tips of the nails.... I used it on the tips of nails, then put a flesh-toned polish over it. I showed it to the studios. They said, 'You don't know how much money you will save us.' I called it the Natural Look Nail Kit. Then I went to Paris and used it on models at a fashion show. When I came back, I started calling it the French manicure. After Cher and Barbra Streisand went on The Johnny Carson Show, separately, with their French manicures, people started talking about it. After a few years, it was selling like hotcakes."
No matter its true origins, the simple look of a French manicure or pedicure is considered timeless by many as it's just as popular today as it was when the style first emerged. 
Notice concerning medical entries:
Articles having medical content shall serve exclusively for the purpose of general information. Such articles are not suitable for any (self-) diagnosis and treatment of individual illnesses and medical indications. In particular, they cannot substitute for the examination, advice, or treatment by a licensed physician or pharmacist. No replies to any individual questions shall be effected through the articles.
More Articles On This Topic