Pedicure Options

What Are The Different Types Of Pedicures, And Which Is Best?

Learn the different pedicure options available to you — from athletic, fish, paraffin, chocolate, ice cream and more — and find out which types of pedicures are best for calluses, cuticles, ingrown toenails, dry foot skin, nail polish and all your other foot needs.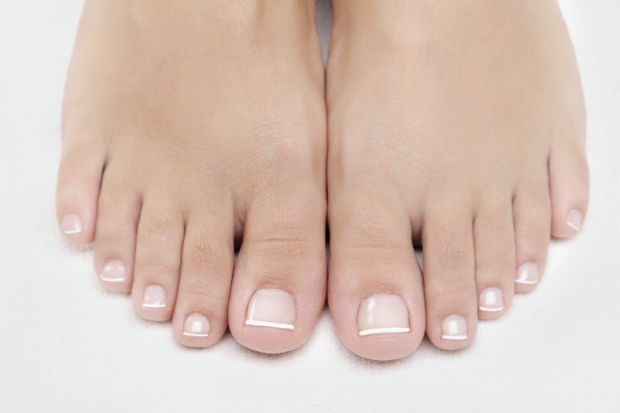 Feet certainly aren't the most popular body part, but they have inspired major growth of one of the most popular beauty treatments: The pedicure. This indulgent spa experience has taken hold of America, contributing to the near 75% increase in the nation's nail salon numbers since 2000. And with that nail spa and nail salon explosion has come a wide variety of pedicure options, each tailored for specific nail care needs and for specific spa experiences. From a French pedicure to a Shanghai style pedicure, check out the complete list of your pedicure options below, keeping in mind that each spa and salon may have their own name for the different types of pedicures and use its own products for each foot and nail treatment.
Classic or Regular Pedicure
This is the standard treatment pretty much all salons and spas offer. Classic pedicures include a warm foot soak and a foot scrubbing with either a pumice stone or foot file followed by clipping of the nails, shaping of the nails, your cuticles being pushed back, a short foot and calf massage, moisturizer and nail polish (if desired). This option is good for people who are looking for regular foot and toenail maintenance like callus removal without much fuss or pampering.
For more about classic pedicures, including what a regular pedicure feels like, click here.
Spa Pedicure
The spa pedicure elevates the classic pedicure in many ways. The process generally includes a variety of upgrades, including aromatherapy oils added to the footbath, an exfoliating scrub to further remove calluses, a hot towel wrap and paraffin wax dips. In addition, spa pedicures are generally done in a more relaxing, private environment than a typical pedicure at a regular nail salon. The experience should make you feel pampered and ultra relaxed. 
Athletic or Sports Pedicure
This type of pedicure is very similar to a classic pedicure but with a slight twist: cooling aromatics are used to help soothe sore, tired muscles. Scents often include peppermint, eucalyptus and/or cucumber. Some salons also offer extra massage with athletic pedicures. It's a perfect treatment for athletes of any gender as well as anyone looking to get their feet in great shape without frills and luxury. Footfiles recommends this option for people who suffer from ingrown toenails, stubborn calluses and other foot issues that need serious TLC.
French Pedicure
The popularity of the French manicure has spread to the feet in recent years, giving French pedicures their own category. A French pedicure is basically a classic pedicure or spa pedicure with the addition of painting thin white stripes on the tip of the toes followed by a sheer nude or pink color on the base of the nail.
Gel Pedicure
A gel pedicure is basically the same thing as a classic or spa pedicure, except the nail technician uses gel polish instead of regular nail polish, if toenail painting is requested. Gel polish is specially formulated to last two weeks without chipping (making it a very popular choice for manicures), however it does come with not-so-fun side effects like dry nails after acetone removal of the gel polish.
Chocolate Pedicure
For serious chocoholics, the chocolate pedicure uses pretty much everything you can think of from the world of cocoa: a chocolate foot soak, a chocolate foot mask, and a chocolate moisturizing lotion. Chocolate-hued nail polish optional! The sweet substance has healthy foot benefits, including the fact that cocoa naturally moisturizes and firms the skin as well as acts as a powerful antioxidant. Bonus: smelling chocolate has been said to induce feelings of euphoria, meaning this is really a feel-good treat for your tootsies.
Margarita Pedicure
Your feet deserve to party, too. And that's why the margarita pedicure was born. It's similar to a classic pedicure, except this one includes a lime footbath, a salt scrub, a lime-based massage oil and lime-scented moisturizer. If you're lucky, the salon will pamper you with a shot of tequila, too.
Stone Pedicure
A stone pedicure is less a pedicure and more a foot massage that begins with a classic warm footbath followed by a variety of different essential oils that are rubbed on with the help of hot stones. It's an indulgent experience meant to soothe the sorest of leg and foot muscles, but it doesn't always provide the cuticle attention, skin scrub and other details classic pedicures provide.
Fish Pedicure
One of the fishiest trends to hit the beauty world in some time, fish pedicures are similar to classic pedicures in all but one area: the removal of dead skin. While typical pedicures remove calluses and dead skin with a pumice stone or a metal foot file scrub, fish pedicures handle the calluses in an entirely different way: small carp fish called garra rufa fish (or doctor fish) nibble the calluses and dead skin off of the feet and toes. It's been said that the painless practice, originally hailing from Turkey, Syria, Iraq and Iran, can cure eczema and psoriasis.
Milk And Honey Pedicure
This pedicure can be hard to find, but well worth the search. It starts with a relaxing soak in a warm milk bath followed by an exfoliating sugar scrub and a honey mask. Some milk and honey pedicures include paraffin wax treatment. It's a super hydrating, skin softening experience for those looking for extra moisture and exfoliation.
Wine Pedicure
Who knew I Love Lucy style grape stomping could also be good for your feet? Apparently, wine is great for the skin, which is why this pedicure trend began. Believe it or not, wine is full of rejuvenating antioxidants that soften and liven your feet, cuticles and calluses, so wine pedicures often begin with a foot soak that includes vino followed by classic pedicure steps. Cheers!
Shanghai Pedicure
While typically it is advisable not to use blades or anything that cuts the skin during callus removal (it's extremely dangerous and has been outlawed in many states), there is one type of pedicure where it remains okay: Samuel So's Shanghai or Shanghainese pedicure at Hong Kong's Mandarin Oriental Hotel. The skilled pedicure expert uses elements of Traditional Chinese Medicine (TCM) along with sharp scalpels to whittle your feet into seriously smooth and sexy body parts. It's an expensive process, but socialites and top fashion editors swear it's the best pedicure in the world for anyone with calluses, ingrown toenails, bunions and other foot issues.
Ice Cream Pedicure
This type of pedicure gained popularity a couple of years ago and starts with a foot soak that includes an ice-cream shaped fizzing "bath ball" full of vitamins, minerals and aromatics that helf soften the feet. This is followed by a foot scrub with either an "ice cream sandwich" pumice for calluses — one side for buffing and one side for softening and polishing — or a vanilla, strawberry or chocolate foot scrub. This is typically followed by a "foot icing" moisture treatment using whipped lotion and is finished off with red nail polish — to simulate the cherry on top, of course!
Notice concerning medical entries:
Articles having medical content shall serve exclusively for the purpose of general information. Such articles are not suitable for any (self-) diagnosis and treatment of individual illnesses and medical indications. In particular, they cannot substitute for the examination, advice, or treatment by a licensed physician or pharmacist. No replies to any individual questions shall be effected through the articles.