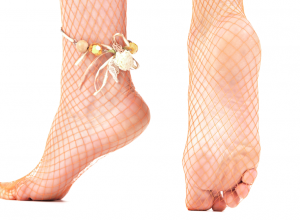 PhotoGraphyKM/iStock
Foot Fetish
A foot fetish is a characterized by a fascination with or strong admiration for feet. Obsessive interest in the body part doesn't necessarily have to be sexual, but it is generally a form of sexual desire in which a person is aroused by seeing, touching, massaging and even thinking about feet, soles and toes.
Foot fetishes are the most common form of sexual fetishism, and it is more commonly seen in men than in women.
Other terms used to describe a foot fetish include foot fetishism, foot partialism, foot worship and podophilia.
According to Wikipedia, notable foot fetishists include Andy Warhol, Elvis Presley, Thomas Hardy, Johann Wolfgang von Goethe, George du Maurier and Giacomo Casanova. Film director Quentin Tarantino is also rumored to have a foot fetishism.
Notice concerning medical entries:
Articles having medical content shall serve exclusively for the purpose of general information. Such articles are not suitable for any (self-) diagnosis and treatment of individual illnesses and medical indications. In particular, they cannot substitute for the examination, advice, or treatment by a licensed physician or pharmacist. No replies to any individual questions shall be effected through the articles.
More Articles On This Topic