Foot Fetishism

Reality Check: We Defs Live In A Foot Obsessed World

Instagram, the Oscars and Google don't lie: America's got an obsession with feet that goes way beyond your typical foot fetishism. Suddenly, foot worship (aka, being crazy about feet) is the MF norm.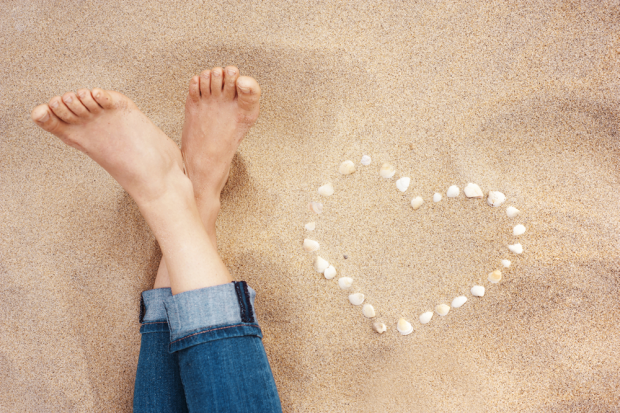 Toto, we are definitely not in Kansas anymore. The world has gone mad ... over feet. A fascination with toes and soles — which used to be thought of as icky and only for sexually perverse weirdos — is now front and center on the social canvas, with everyone from the girl and boy next door to celebrities stepping up their foot selfie game and other things related to feet. Don't believe that giving feet love is really in style? Check out the following proof that foot worship is now a thing. If not for serious, then just for kicks.
Foot Obsessed World Proof #1: Instagram and Tumblr #ToeLove
A quick search on Instagram and Tumblr officially gives the boot to the idea that people think feet are disgusting and weird. Posting foot selfies, pedicure pics, celebrity feet and other foot-related photos has become a trend, with #footphotography and #myfeet proving to be popular trending tags. But it's really no surprise, considering Instagram basically gave birth to the foot selfie: The very first photo posted by the app's creator, Kevin Systrom, was a snap of a dog next to his girlfriend's flip-flop wearing foot.
Foot Worship Proof #2: Red Carpet Foot Snaps
Celebrities who strut the red carpet are bombarded with just as many foot photos as they are with snaps of their designer gowns. Sure, the podiatric pics are to help show off actors' fancy footwear, but many gossip magazines have taken it upon themselves to point out pedicure trends with the foot photos, as well. And really, if a riotous ruckus hadn't been raised over E! Entertainment's infamous Oscar mani-cam that prompted the stars to give up-close and personal pics of their manicures, pedi-cams would have been just a few steps behind. 
Foot Love Proof #3: Pedicures Are On The Rise
There's no doubt that the pedicure industry has seen a huge boom in the last two decades, with full-service nail salons driving the number of total US salons up from 50,000 in the year 2000 to over 200,000 today. And therein lies a real chicken or egg conundrum: Did the popularity of pedicures rise due to society's new fascination with feet, or did the recent widespread love of soles, heels and toes stem from a generation of people suddenly surrounded by perfectly pedicured tootsies? We may never know, but it's definitely a question worth pondering as you stare at your toes and soles.
Feet Obsession Proof #4: Googly Eyed Googlers
Anyone who's used Google to search for something on the Internet knows the auto fill function is a miraculous thing. As you type a word into the search box, it automatically suggests follow up words to help your search go quicker — and it's all based on what most people search for with any given word. For example, if you type in the phrase "ice cream", the auto fill suggestions are most likely something like "ice cream cone" or "ice cream near me". This can be quite revealing about the zeitgeist of a culture, with many journalists noticing that the word "feet" tended to pop up quite frequently when the names of female celebrities were typed into Google in 2014, 2015 and the beginning of 2016. Um, foot obsession, anyone? Strike that: Foot obsession everyone. 
Foot Worship Proof #5: Pop Culture Podophilia
If feet are so taboo, then how does one explain their omnipresence in today's films, music and art? Sarah Michelle Gellar took on the role of Cinderella in a recent Princess Rap Battle (against Whitney Avalon in the part of Belle), crooning, "I deserve all the praise for the foot fetish craze." But that honor could also go to a plethora of other popular names, including Andy Warhol, Quentin Tarantino and Joss Whedon — three very respected contemporary artists known for their fascination with feet and their foot-centric work. And they're not the only ones: Buzzfeed named 30 famous foot fetishists in a list that includes Elvis Presley, Christian Slater, Ludacris and Britney Spears (who once confessed she prefers a boyfriend who isn't afraid of kissing her toes, baby, one more time).   
MORE: Do you have a foot fetish? Take this quiz to find out! 
Oh yeah, and let's not forget the word "podophilia," which is a fairly new term that has popped up into today's ever-growing lexicon. Simply put, it describes a love of feet — sexual or otherwise. And it perfectly sums up how America has, for lack of a better phrase, fallen head over heels for feet.  
Notice concerning medical entries:
Articles having medical content shall serve exclusively for the purpose of general information. Such articles are not suitable for any (self-) diagnosis and treatment of individual illnesses and medical indications. In particular, they cannot substitute for the examination, advice, or treatment by a licensed physician or pharmacist. No replies to any individual questions shall be effected through the articles.