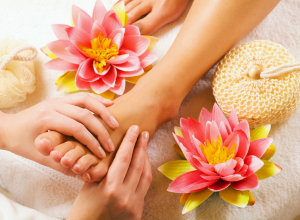 kzenon/iStock
Podiatrist
A podiatrist, sometimes called a Doctor of Podiatric Medicine or a chiropodist, is a doctor who specializes in medical and surgical treatment of disorders of the feet, ankles and lower extremities. This includes anything from calluses to foot amputation. 
A Doctor of Podiatric Medicine (DPM) is considered an expert in lower extremity anatomy. DPMs study for four years in a podiatric medical school and must complete three years of hospital residency training. They have extensive knowledge of general human anatomy, physiology, general medicine, physical assessment, biochemistry, biomechanics, neurobiology, pathophysiology, histology, pharmacology, microbiology, physical rehabilitation, sports medicine, genetics, ethics and jurisprudence, general principles of orthopedic surgery, and foot and ankle surgical procedures.
Podiatrists can specialize is a variety of fields, including sports medicine, surgery, diabetic care and pediatrics (children). They may also become board certified via The American Board of Foot and Ankle Surgery (ABFAS) or the American Board of Podiatric Medicine (ABPM). 
Contrary to popular belief, podiatrists and chiropodists are the same thing. US podiatrists changed the name from chiropodist in the 1960s when people started confusing it with the term chiropractor, which is a specialist who deals with musculoskeletal deformities and disorders. However, the term chiropodist is often still used in other countries around the world. 
Notice concerning medical entries:
Articles having medical content shall serve exclusively for the purpose of general information. Such articles are not suitable for any (self-) diagnosis and treatment of individual illnesses and medical indications. In particular, they cannot substitute for the examination, advice, or treatment by a licensed physician or pharmacist. No replies to any individual questions shall be effected through the articles.
More Articles On This Topic