Podiatry Info

Foot Doctor 411: How To Prepare For A Podiatrist Appointment

Visiting a podiatrist can seem like a scary thing, but this guide will ease your fears of a foot doctor visit and prep you for your first podiatrist appointment.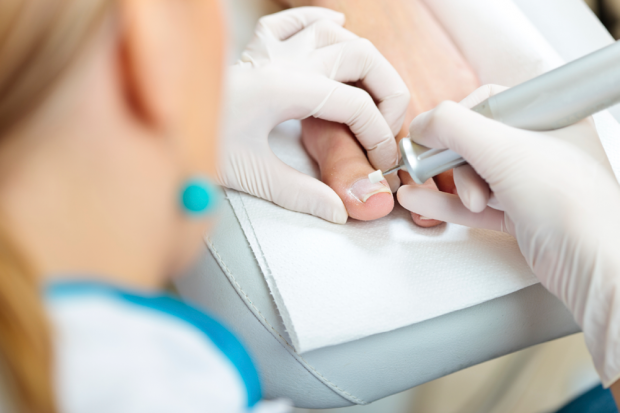 Podiatrists often get a bad rap. They're experts in the field of feet — a body part most people find to be disgusting — and when you visit a Doctor of Podiatric Medicine (DPM), you're letting him or her get up and close and personal with said "disgusting" extremities. But have no fear: Foot doctors have pretty much seen it all, and they won't be shocked by anything you kick their way during a podiatrist appointment — bunions, corns, plantar warts, ingrown toenails, fungal infections and all. Furthermore, each foot doctor typically goes through eight years of school followed by a three-year residency, so they really are the trustworthy source for all foot related problems and foot surgery questions.
Things You Should Do Before Visiting A Podiatrist
If you're planning on visiting a podiatry clinic, there are a few things you should prepare in advance, according to the American Podiatric Medical Association (APMA). They include:
Make a list of your symptoms and also any questions you have for the foot doctor
Make a list of all the medications you're currently taking, as well as any surgeries you've undergone
Gather and bring any important medical records, lab results, X-rays and MRIs from other doctors or hospitals, especially those pertaining to your feet
Check with your insurance company if a referral is mandatory prior to visiting a podiatrist
Bring your walking/exercise shoes with you if your problem is related to walking or exercising
Additionally, you should come with thoroughly washed and dried feet so your podiatrist can closely examine your problem without pesky dirt and odor getting in the way.
Things You Shouldn't Do Before Visiting A Foot Doctor
This section applies mostly to women, who commonly make the following mistakes prior to a podiatrist visit:
Shave Your Legs: Don't feel the need to shave your legs. Hair growth on the legs and feet is generally a sign of healthy blood flow, and hair loss can indicate a host of problems, including diabetes. If it makes you feel really uncomfortable, then by all means, shave. But some podiatrists may actually want to see the growth pattern of your leg and foot hair to diagnose and/or rule out problems. 
Get a Pedicure: As tempting as it may be to look presentable for your podiatrist, many foot doctors actually warn against pedicures, as they can leave your feet vulnerable to fungal and bacterial infections. Additionally, pedicures may make any current problems or ailments you're experiencing worse. First get a clean bill of health, and then consider getting a pedicure (at a clean, reputable facility, of course). 
Paint Your Nails: Again, as tempting as it may be to want your feet to look their best before visiting a podiatrist, foot doctors actually prefer that you not paint your nails. They'll likely examine your nails for abnormalities as well as bacterial and fungal infections, and paint could hide signs of infection. 
Cut Your Nails Short: This one applies to both men and women. Podiatrists may need to cut a sample from your toenails to send to the lab, so it's best to leave a small amount of growth for the foot doctors to work with. 
Checklist For Your Podiatrist Visit
Once you're at your appointment, the APMA suggests you do the following things:
Discuss your list of questions with your doctor
Don't hesitate to ask further questions if there's anything you don't understand
Take notes and listen carefully to the podiatrist
Discuss your symptoms and any changes you may have experienced
Talk about all new medications and what you can expect from them
Be sure to ask why a medication is prescribed and how to take it if your foot doctor prescribes something
Warn the podiatrist about any allergies
Tell the podiatrist if you are pregnant, planning to get pregnant or if you are seeing other doctors
How To End An Appointment With A Foot Doctor
When you're wrapping up a visit with a podiatrist, as with any doctor, you should do the following:
Ask about how you should prepare for any tests the podiatrist may have ordered, if there will be any side effects to the tests, and when you should expect the results
Find out when and how you can receive the test results
Schedule a follow-up appointment (if necessary)
Follow up with a phone call if you haven't heard from the clinic or office when you are supposed to
As we mentioned above, podiatrists are foot experts and have the overall wellness of your feet in mind. There's nothing to be scared of, and more often than not, you'll leave a podiatrist's office feeling like you're walking on air — or at least on your way to it.
Notice concerning medical entries:
Articles having medical content shall serve exclusively for the purpose of general information. Such articles are not suitable for any (self-) diagnosis and treatment of individual illnesses and medical indications. In particular, they cannot substitute for the examination, advice, or treatment by a licensed physician or pharmacist. No replies to any individual questions shall be effected through the articles.