Toe'tal Shoe Doll

7 Fashionable Shoe Options For Women With Bunions

Believe it or not, it IS possible to stay stylish even if you have bunions. All it takes is a little shoe 411 and knowing how to work the latest trends.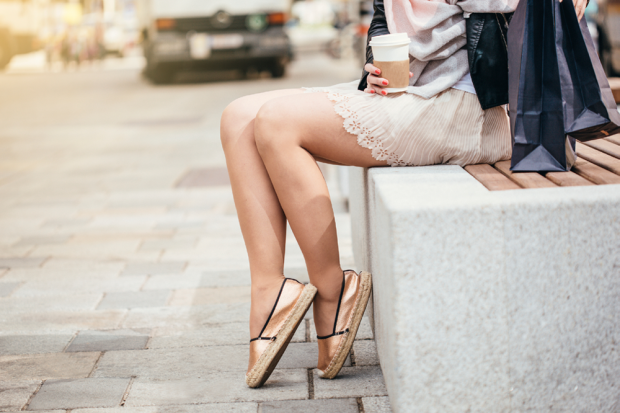 Bunions might have the ability to slow you down physically, but there's no need for the bony protrusions to create speed bumps in your fashion-forward lifestyle. Podiatrists might recommend that you start wearing orthopedic footwear and other mortifying shoe options, but rest assured: There are plenty of stylish footwear options you can rely on without having to feel like grandma. 
But first, a few facts about bunions (called hallux abducto valgus in the medical world):
Bunions can be hereditary or due to repeatedly squeezing into uncomfortable high heeled shoes (sometimes both factors are to blame).
They occur when pressure or other factors irritate the toe joint and force it out of place, which then creates a situation in which the big toe begins to angle toward the little toes.
The resulting bony protrusion on the inner edge of the foot is often swollen and experiences pain, especially when it's continued to be squeezed into shoes with tight toe boxes or constricting straps.
Surgery is often required for bunions, particularly for women who continue to torture their bunions by refusing to wear roomier, more comfortable shoes.
Contrary to popular belief, the hunt for comfortable shoes doesn't have to include a trip to an orthopedic-focused outlet like Orthofeet, Clarks or Sanita. There are plenty of Glamour-worthy footwear options that won't get you bent out of shape — even if your feet might be. 

How To Stay In Vogue With A Bunion: Various Shoe Options
Keds
These blast from the past shoes were first introduced in 1916, became insanely popular in the 1980s, temporarily lost their street cred in the 1990s and are now back in full-fledged popularity for both adults and teens alike. The stretchable canvas material of the sneaker is a bunion's best friend, and Keds go with everything from skinny jeans to casual dresses.
Lace-Up Sandals
Adjustable is an important word for bunion sufferers when it comes to shoe shopping, and fortunately lace-up sandals fit the bill. While most strappy footwear options are killer for bunions, a lace up sandal allows the wearer to give the shoe a loose fit that accommodates most bony foot protrusions.
Platform Heels and Wedges
Looking for height without the painful incline of sexy stilettos? Try rocking the 1970s platform heel look. The retro shoes can give you several inches of height without the steep, bunion-angering position of traditional heels. 
Stretchable Flats
Flats are often a go-to choice for women who don't have bunions and need a break from high heels, but most flats are harbingers of death for bunion sufferers, especially if the edge of the shoe happens to be located right on your bunion. If you're keen to rock the ballet flat shoe look, then opt for shoes made from stretchy material or leather, both of which are soft, pliable and roomy. 
Buckled Or Adjustable Sandals
Women across the country are singing hallelujah over the Birkenstock trend being back in vogue — and that goes for both people with and without bunions. The super comfy Birkenstock shoes offer a soft footbed and plenty of space for bony, swollen bunions. 
Espadrilles
The soft, stretchable material most espadrille sandals are made from act as a cushiony cloud for bunions, and fortunately, the neutral shoes go with casual jeans and leggings as well as with sundresses.
Clogs
No, we're not referring to the stiff wooden footwear of the Netherlands but rather their stylish, comfy and roomy modern counterpart. Clogs not only offer height, they are also often made from super soft leather (try a brand like Dansko) that helps keep a bunion and its owner from screaming in pain. 
Notice concerning medical entries:
Articles having medical content shall serve exclusively for the purpose of general information. Such articles are not suitable for any (self-) diagnosis and treatment of individual illnesses and medical indications. In particular, they cannot substitute for the examination, advice, or treatment by a licensed physician or pharmacist. No replies to any individual questions shall be effected through the articles.