Cheers To Your Health

These Holiday Foods Boost Foot Health — Really!
Your feet love turkey, cranberry sauce and pumpkin just as much as your tastebuds do. Don't believe us? Check out the gallery below for a list of the best seasonal foods for foot health and how the foot friendly foods help improve both the appearance and health of your feet.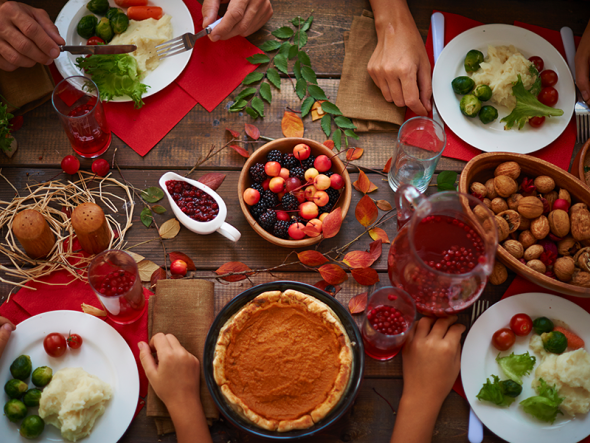 Believe it or not, you truly can eat your way to good foot health — even during the holidays. The following 8 foot friendly foods like turkey, green beans, pumpkin and dates help improve the appearance and health of your feet, from Thanksgiving, Christmas, New Years and beyond. And if you start incorporating them into your diet now, they can help ward off painful foot conditions like gout, plantar fasciitis, arthritis and diabetes. So eat up!
Turkey
This lean, white meat isn't just known for tryptophan, which helps induce a good night's sleep. Turkey is also known for its high level of zinc, which helps maintain skin collagen and elastin fibers. Basically, if you eat a lot of turkey, your foot skin will preserve its elasticity, firmness and moisture — which means reduced foot problems like dry skin, calluses and heel fissures.
Cranberry Sauce
Cranberries are chock full of antioxidant, anti-inflammatory and anti-cancer health benefits. They're also extremely helpful at boosting your immune system. What does this mean for your feet? Well first of all, reduced inflammation means common foot conditions like plantar fasciitis won't be nearly as uncomfortable. And a higher immune system means you're less likely to pick up common foot infections like Athlete's foot, toenail fungus and bacterial infections of ingrown toenails.
Pumpkins
Whether it's in the form of a latte or a pie, pumpkins are pumped with essential vitamins and nutrients. One of its largest concentrations is of Vitamin A, which dramatically helps bone health. And hey, with 25% of the bones in your body located in your feet, it can't hurt to load up on the orange wonder.
Cinnamon
A dash here, a dash there, a dash everywhere during the holidays. Cinnamon is a holiday staple, but it doesn't just spice up your Thanksgiving and Christmas food. Cinnamon is known as a natural drug for conditions like eczema, arthritis and diabetes — all of which plague foot health. Most of its benefits for the feet happen when applied topically, however. So you'll have to add it to foot soaks, foot massage oil and other foot-related treats in addition to savoring it in your food.
Green Beans
Looks like you may have to suffer through another helping of green bean casserole. After all, the power-packed legumes can not only help manage diabetes so sufferers don't experience diabetic foot, they also significantly boost the immune system.
Dates
Hand over the bacon-wrapped dates, please. The reason? Dates contain high amounts of minerals that make it a superfood for bone health. Not only can they ward off osteoporosis, they help keep the hundreds of bones in your feet healthy so you're less likely to develop conditions like bone fractures, bone spurs and nodes.
Nuts
Using that fancy nutcracker is doing more than helping your arm muscles. Eating nuts like pecans and walnuts help give your foot skin a thirst-quenching shot of healthy omega-3 oils that help improve elasticity and keep Sahara-like skin at bay. Omega-3 oils also help prevent gout flare-ups and plantar fasciitis.
Champagne
Ok, so champagne technically isn't a food. However, plenty of people treat it like it is during the holidays. And guess what? It's totally okay if you down one to many glasses of bubbly and start to spill champagne deliciousness on your feet. The antioxidants in the fizzy drink can help detoxify the skin, and the tartaric acid can help even skin tone. So, bottoms up! 
Notice concerning medical entries:
Articles having medical content shall serve exclusively for the purpose of general information. Such articles are not suitable for any (self-) diagnosis and treatment of individual illnesses and medical indications. In particular, they cannot substitute for the examination, advice, or treatment by a licensed physician or pharmacist. No replies to any individual questions shall be effected through the articles.