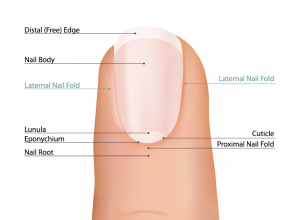 Terriana/iStock
Paronychium
Paronychium is the soft tissue that surrounds both fingernails and toenails. Also called the lateral nail fold, this tissue helps keep dirt, bacteria and other organisms from getting underneath the nail and causing an infection. 
When the paronychium becomes infected, the condition is called paronychia. 
Notice concerning medical entries:
Articles having medical content shall serve exclusively for the purpose of general information. Such articles are not suitable for any (self-) diagnosis and treatment of individual illnesses and medical indications. In particular, they cannot substitute for the examination, advice, or treatment by a licensed physician or pharmacist. No replies to any individual questions shall be effected through the articles.