Parenting Tips

Horrifying Viral Photo Has The Safety Of Jelly Shoes In Question

A viral photo showing a toddler's bloody feet as the alleged result of wearing jelly sandals has parents alarmed about whether or not the plastic shoes are safe.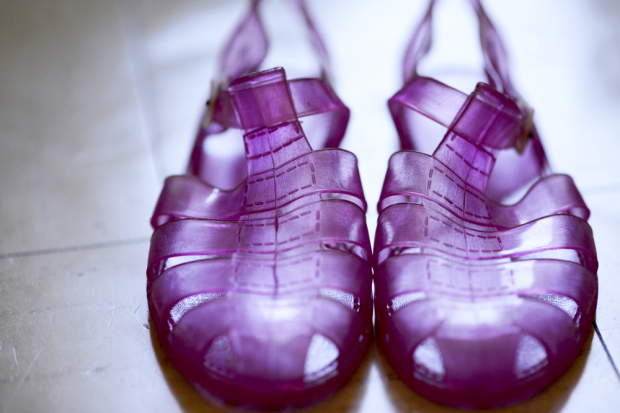 A lot of painful shoe trends have come and gone, but the resurfaced popularity of plastic jelly shoes has caused a cry of alarm — especially after a photo of a two-year-old's bloody foot surfaced, with the horrific injuries allegedly the result of wearing jelly sandals.
Lisa Connor of Blackpool, England, told the Daily Mail that her young daughter, Esmé, suffered terrifying injuries from the pink jelly shoes she got for her birthday after just 30 minutes of wear.
"Esmé was in absolute agony," Connor says. "I couldn't believe it because she had only been wearing them for half an hour. It's not like she was running around in them for hours. She was just plodding around the house and then came running in tears. There was blood all 'round her ankle and on the soles of her foot. Of course there will be new shoes that rub, but this is ridiculous."
Appalled at her daughter's injuries, Connor shared the bloody photo on social media and has asked that the manufacturer (Next) recall them for safety issues. A spokesperson for the shoe company responded with a message that reads: "We are terribly sorry for the distress caused and we are taking this matter very seriously. We've asked for this pair of shoes to be returned so we can carry out a detailed inspection of this shoe, since this is the first complaint of this nature that we've received." 
Most jelly shoes are made of PVC plastic. Because the material is non-breathable, wearing jelly shoes has been known to cause foot sweat that can result in rubbing, chaffing, bleeding and blisters for some people. 
The worst part of the jelly shoe experience, Connor says, is that because her daughter is only 2 years old, she wasn't able to clearly communicate that she was in so much pain. "She was moaning and whining, and I initially put it down to being tired," Lisa recalled before discovering the true root of her pain. "There was so much blood. Her dad had to spend an hour calming her down. It ruined her birthday weekend."
Notice concerning medical entries:
Articles having medical content shall serve exclusively for the purpose of general information. Such articles are not suitable for any (self-) diagnosis and treatment of individual illnesses and medical indications. In particular, they cannot substitute for the examination, advice, or treatment by a licensed physician or pharmacist. No replies to any individual questions shall be effected through the articles.