Far Trek

How To Choose The Best Hiking Boots For Both Men and Women

The ultimate guide to help both men and women choose the best walking boots, hiking boots and hiking shoes before trekking into the wilderness.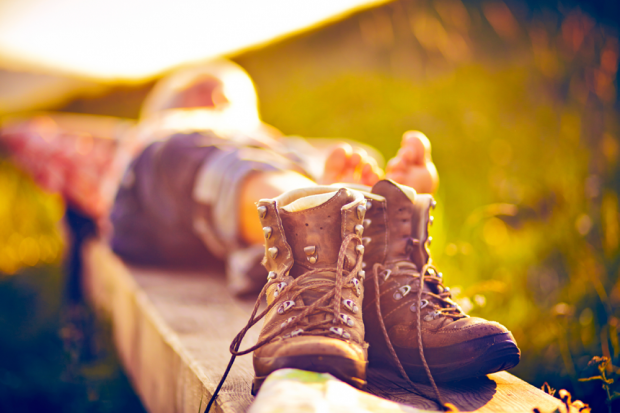 There's no doubt that the right pair of shoes is a hiker's most important piece of gear. Whatever footwear you choose can be the difference between gliding over the terrain in an easy, relaxed fashion and hobbling down the path in crippling pain with blisters all over your feet. Luckily, the best hiking boots for your journey really only have to have two important qualities: They must be comfortable and well fitted, and they must be appropriate for the conditions in which you'll be hiking. 
Sounds simple in theory, but finding just the right pair of hiking boots or hiking shoes entails a little bit of research and pre-planning, which we help you with below.
OVERVIEW
Which Type Of Hiking Shoe Is Best For You
How Terrain And Load Weight Will Impact Your Choice
What To Observe and What To Ignore While Shopping For Hiking Shoes
How To Ensure You Get The Right Fit
The Importance Of Breaking In Hiking Boots And Hiking Shoes
Hiking Boot Features At A Glance
There are five types of hiking shoes made for various journeys, whether it's a lakeside day-hike or a treacherous weeklong excursion in the backcountry. The options are as follows:
Heavyweight or Mountaineering Boots — For Serious Hikes In Cold, Rough Terrain
Mountaineering boots and all-leather heavyweight hiking boots are made for the toughest of treks through snowy, mountainous terrain in extreme temperatures. They have a super stiff midsole and are usually waterproof, warm and the most durable option you can find on the market. Most often allow the attachment of crampons, which are metal spikes fixed to a boot for walking on ice or rock climbing.
Pros: Heavyweight boots have superior traction and give the foot ultra protection when encountering rough terrain like ice, snow and steep mountains. They're extremely tough, durable and supportive, and they usually offer a sole that can be replaced when worn out.
Cons: As their name implies, heavyweight hiking boots are not light. They usually weigh a little over 3 pounds (1.5 kg) and get considerably heavier when they're soaked with water and mud. They can be quite stiff and uncomfortable, and also require several weeks of break-in time. They're not necessary for most hikes, which is good because they're also quite pricey. 

Lightweight or Backpacking Boots — For Long Hikes With Heavy Loads
Lightweight backpacking boots are the most popular footwear choice for most backpackers, as they offer comfortable support for multi-day treks into the backcountry, where terrain can be rough and unpredictable. 
Pros: Backpacking boots require minimal break-in time and offer stiff, supportive midsoles without the heavy weight of mountaineering boots. They're designed with a high cut that gives ankles stable support, which is important when you're carrying a heavy load on your back. They're also much more breathable and comfortable than their heavier counterparts and are suitable for both on- and off-trail treks. 
Cons: Backpacking boots generally aren't waterproof, though some models come with a waterproof lining. While they are lighter than mountaineering boots, they're still quite bulky with an average weight of 2 to 3 pounds (1 to 1.5 kg). 

Hiking Boots — For Short Hikes With Light Loads
Traditional hiking boots are the footwear option most people will choose, as they are typically designed for day hikes or light-load weekend backpacking trips.
Pros: Hiking boots are flexible shoes that offer mid- or high-cut ankle support. They're usually breathable, comfortable and need very little break-in time. They're generally considered the best for short and "regular" hikes that don't involve icy, rough, mountainous terrain.
Cons: Traditional hiking boots aren't usually waterproof, nor are they as tough and durable as heavyweight and packbacking boots. 

Hiking Shoes (Trail Runners) — For Day Hikes
Trail runners are flexible, low-cut shoes made for most day hikes. However, a backpacker here or there may even choose trail running shoes for longer journeys.
Pros: Trail runners are super flexible, breathable and lightweight. They offer more traction and support than most running shoes, which is a plus for typical hiking terrain like rocky trails and desert paths. Their midsoles are often flexible, which provides more comfort than stout alternatives.
Cons: Though they're lighter than all other hiking footwear options (outside of hiking sandals), they're still weighty, with an average load of 1 to 2 pounds (0.5 to 1 kg). They're not waterproof, but they do dry fairly quickly. Most people choose to augment them with waterproofing Gore-Tex socks.

Hiking Sandals — For Day Hikes On Mellow Terrain
Though sandals are generally not recommended for hiking trips, there are some hiking sandals on the market that are okay for short, light-load trips on easy or mellow trails.
Pros: Hiking sandals are extremely breathable, offer superior ventilation and are the quickest drying out of all hiking footwear options. Some brands like Teva, Merrell and Keen offer models that have fairly decent traction and arch support. 
Cons: Hiking sandals are the least supportive out of all hiking footwear options, and they leave your skin vulnerable to cuts, scrapes, sunburn and insect bites. They also weigh about as much as trail runners, so they have no advantage over safer, more supportive shoes in the weight category. 
As you may have noticed in the above section, knowing what kind of conditions you'll be hiking in, the terrain ahead of you and your backpack load weight are all important factors in choosing the right type of hiking shoes for your journey. 
If you'll be engaging in a fairly short, simple hike with a light load, there's no need to wear bulky, heavy hiking boots that will weigh you down (provided you are in shape and don't have any pre-existing foot or leg problems). After all, each pound worn on your feet equates to about five pounds on your back — which means that wearing 3 pound hiking boots can translate to a feeling of 15 extra pounds in your bag! 
If you will be carrying a heavy load, or if you're overweight yourself, then you may want to consider choosing heavier footwear that offers greater cushioning and support. And if you know your hiking terrain will be rough, you'll want to choose shoes that offer great traction. 
Weather conditions are also important when choosing the right hiking shoes. If you'll be in cold areas, you may want to consider the boot's insulation. Meanwhile, if you will be hiking in a hot desert, breathability may be the most important feature.
Sometimes weighing your options won't be easy, and you'll have to find a balance that's right for you. For example, someone with Chronic Ankle Instability may want to opt for a heavier, high-cut backpacking boot even for simple, short hikes because of the strong ankle support those boots provide. 
When shopping for appropriate hiking shoes, there are a few things you should ignore, including:
The way the shoe looks (instead, go for comfort — every time)
Flashy features
Numerical sizes (instead, choose whatever size feels good)
Brand names
Friends' recommendations (no matter how well-intended)
Conversely, there are things you should definitely focus on, including:
Comfort
Stability
Durability 
Weight
Warmth
Water resistance and/or breathability
Once you narrow down the type of hiking footwear you need, you'll need to focus on fit. Fitting your shoes properly can help you avoid common ailments like blisters, plantar fasciitis, sprained ankles, foot pain and shin splints. 
Here are a few things to keep in mind while being fitted for hiking shoes:
Wear the socks you plan to use during your hike. Hiking socks come in all different types of thicknesses than can alter the way your boot or shoe fits.
Ignore all size numbers you've heard before and just go with the shoe size that feels the most comfortable. You can use a Brannock device to help you determine which size to use as a starting point.
Shop for boots in the late afternoon or early evening, when your feet are a bit swollen and at their biggest. 
Be sure that you can freely wiggle your toes in the shoes and there aren't any tight spots. Feet tend to swell a bit while hiking, so if the shoes feel tight in the store, they'll feel tighter during long hikes. 
Spend some time in the boots before you buy them. Walk around the store, trek up and down the stairs or escalator, and try to find somewhere with an incline to give you a realistic idea of the feel of the shoes during movement.
Don't rule out after market insoles (footbeds) or custom molded orthotics that can be slipped inside your hiking shoes. Sometimes these lining devices can make all the difference in a shoe that "almost" fits perfectly on its own. This is especially true if you have a foot condition like high arches, bunions or flatfeet, which certain linings can help during long hikes.
No matter what kind of hiking shoe you choose, you'll need to spend a little time breaking in the shoes before you leave for your trek. Heavyweight, all-leather shoes may require several weeks of break-in wear before they're ready to hit the trail, while lighter weight shoes may need just a few days. Try wearing the shoes around your house for a couple of hours a day, and then proceed to short walks and hikes before embarking on multi-day treks. 
The above information can help you go a long way in your search for the perfect pair of hiking shoes, but for those interested in knowing even more about hiking boot features, click here for an in-depth detailed explanation of the different materials, uppers, midsoles, outsoles, rands, crampons and support components hiking shoes offer.
Notice concerning medical entries:
Articles having medical content shall serve exclusively for the purpose of general information. Such articles are not suitable for any (self-) diagnosis and treatment of individual illnesses and medical indications. In particular, they cannot substitute for the examination, advice, or treatment by a licensed physician or pharmacist. No replies to any individual questions shall be effected through the articles.