Cheers!

The Beer Foot Soak That Totally Transforms Feet

Learn how to give yourself a spa inspired 'Brew and Renew' beer foot bath that leaves the skin of your feet soft, healthy and nourished.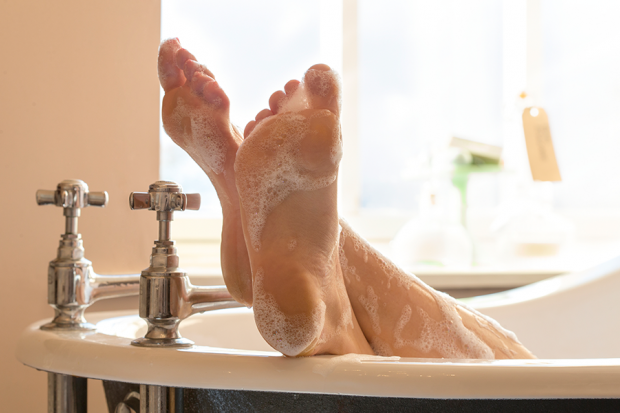 Glitzy hotel The Four Seasons in Vail, Colorado, made headlines when it introduced its line of Brew and Renew treatments like the Amber Ale Beer Foot Soak and a hot stone massage that uses warmed up cans of brewski in place of rocks. It might sound like the owners were a bit sloshed when coming up with the idea, but beer foot soaks have actually been around since the Middle Ages and have been touted as being ultra nourishing for your skin. 
The hops and yeast present in beer are said to have a purifying and cleansing effect during a beer foot soak that not only helps remove excess skin build up like calluses, but may also help clear up mild infections of Athlete's foot and toenail fungus. So rather than drinking your next beer, perhaps try using a bottle to soften, cleanse and nourish your feet.
How To Make A Homemade Beer Foot Soak
If you're not lucky enough to visit Vail's Four Season's hotel or one of the many beer-themed spas in either Europe or the US for a professional beer foot soak, you can easily make a homemade beer footbath on your own. 
What You Need
A foot basin or bucket big enough to comfortably fit both feet
2 to 3 bottles of room temperature beer (The Four Seasons in Vail uses Crazy Mountain Brewery's Amber Ale, but you can use any beer of your choice)
1 liter of white vinegar
2 towels
Extra beer for drinking, if desired
Beer Foot Bath How To
Place your foot basin on a clean towel and then fill with the room temperature beer and white vinegar. 
Gently mix the beer and vinegar together, and then place your feet in the nourishing mixture.
Relax for approximately 30 minutes (longer, if you'd like), sipping a cold beer as you allow the beer and vinegar to work their magic.
Remove your feet from the footbath and dry with a towel. Rinse with warm water, if desired.
Editor's Note: To create an indulgent spa feeling while trying this holistic home treatment, simply dim your lights, light a couple of candles and play soothing music while you "brew and renew."
Notice concerning medical entries:
Articles having medical content shall serve exclusively for the purpose of general information. Such articles are not suitable for any (self-) diagnosis and treatment of individual illnesses and medical indications. In particular, they cannot substitute for the examination, advice, or treatment by a licensed physician or pharmacist. No replies to any individual questions shall be effected through the articles.