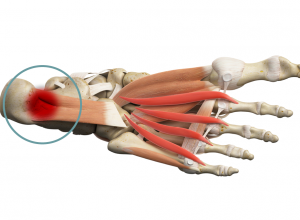 Eraxion/iStock
Plantar Fascia
The plantar fascia is the thick band of tissue (ligament) that runs across the bottom of the foot and connects the heel bone to the toes. It helps support the arch of the foot and assists in proper gait. When this tissue experiences weakness, pain and inflammation, the condition is called plantar fasciitis. Plantar fasciitis is one of the most common conditions that causes foot pain. 
Notice concerning medical entries:
Articles having medical content shall serve exclusively for the purpose of general information. Such articles are not suitable for any (self-) diagnosis and treatment of individual illnesses and medical indications. In particular, they cannot substitute for the examination, advice, or treatment by a licensed physician or pharmacist. No replies to any individual questions shall be effected through the articles.