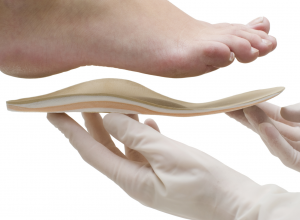 ©zilli/iStockphoto
Orthotics
A specialization in the medical field, orthotics is the design, manufacture and application of externally applied devices called orthoses that control body alignment, correct or accommodate deformities, or protect and support injuries. Orthotics uses a combination of knowledge from several fields, including pathophysiology, biomechanics, and engineering, as well as anatomy and physiology. 
Orthotists will typically recommend an orthosis for the following reasons: to guide, control, limit or immobilize a body part (usually an extremity or joint); to assist in controlled body movement; to reduce weight bearing forces; to restrict movement in a certain direction; to aid in rehabilitation after an injury; to stabilize gait; and to correct the function of a given body part to aid in healing and reduce pain. 
Typical foot ailments that can benefit from orthoses include plantar fasciitis, bunions, gait problems, ligament tears and sports injuries. Pedorthists are clinicians who can prescribe and recommend orthoses specifically for the feet, though orthopaedic surgeons and podiatrists can recommend certain foot orthotics, as well. 
Orthotic insoles are commonly recommended for foot and body health, as insoles have the ability to support the feet by realigning the foot joints and muscles during activities like walking, running and standing. Research has shown that shoe inserts not only provides cushioning, they can also help with knee, hip and spine deformities, as well. 
Other orthoses that are common are ankle and foot orthoses (AFOs), as well as knee braces. 
Orthoses are different from prosthetics, which are full artificial body parts.
Notice concerning medical entries:
Articles having medical content shall serve exclusively for the purpose of general information. Such articles are not suitable for any (self-) diagnosis and treatment of individual illnesses and medical indications. In particular, they cannot substitute for the examination, advice, or treatment by a licensed physician or pharmacist. No replies to any individual questions shall be effected through the articles.
More Articles On This Topic