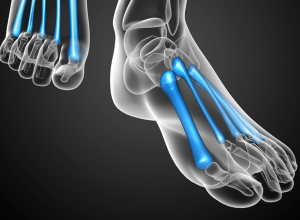 SomkiatFakmee/iStock
Metatarsal Bones
Metatarsal bones are the five long bones located in the center of the foot. They exist between the tarsal bones of the hind and mid-foot and the phalanges of the toes. They connect to the phalanges via metatarsophalangeal articulations (joints).
Football and soccer players frequently experience metatarsal bone fractures, which has been attributed to the lightweight design on many sports shoes. When metatarsal bones are broken, it's sometimes called a march fracture, which is thought to stem from their association with long military marches.
Notice concerning medical entries:
Articles having medical content shall serve exclusively for the purpose of general information. Such articles are not suitable for any (self-) diagnosis and treatment of individual illnesses and medical indications. In particular, they cannot substitute for the examination, advice, or treatment by a licensed physician or pharmacist. No replies to any individual questions shall be effected through the articles.