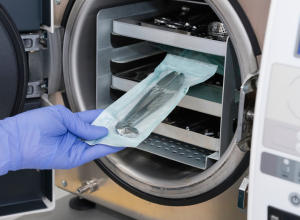 microgen/iStock
Autoclave
An autoclave is a device that uses extremely hot steam under high pressure to achieve absolute sterility on instruments in the medical and beauty field. They are frequently used in spas and salons to keep manicure and pedicure tools sterilized (meaning completely free from bacteria, fungus, viruses and other organisms). 
Some salons use alternative measures to keep their equipment clean, including liquid disinfectants and UV light boxes. However, while these methods do provide disinfection, they cannot completely eradicate infectious organisms like HIV and hepatitis. Only autoclaves and dry heat devices (both of which reach temperatures into the 200-300 Fahrenheit range) can provide complete sterilization against such organisms.
Notice concerning medical entries:
Articles having medical content shall serve exclusively for the purpose of general information. Such articles are not suitable for any (self-) diagnosis and treatment of individual illnesses and medical indications. In particular, they cannot substitute for the examination, advice, or treatment by a licensed physician or pharmacist. No replies to any individual questions shall be effected through the articles.