Shoe-Inspired Sleep System

Birkenstock Introduces Line Of Beds And Body Contour Mattresses

If you like comfy Birkenstock sandals, you'll love the shoe company's comfortable new line of body-contour mattresses and beds.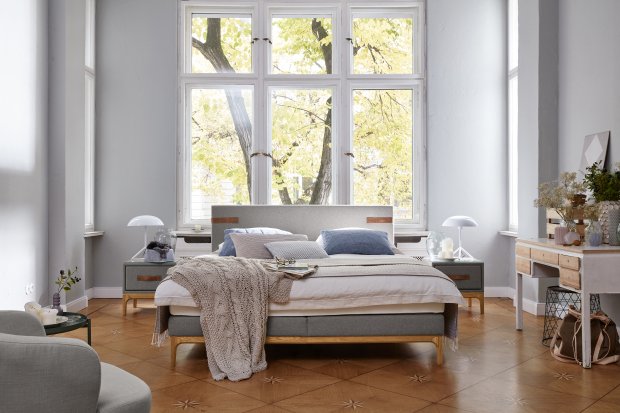 If we had a dime for every time we've heard a person say they could live in their Birkenstock sandals, we'd toss our computers and retire on a tropical island. The feel good shoes have become a classic choice for anyone searching for comfortable footwear and have become synonymous with the word comfort itself. So the German shoe company's latest offering will be a literal dream come true for comfy shoe lovers: Birkenstock has just introduced a line of beds, body contour mattresses and slatted frames that emulate the same serenity your feet get from their shoes.
What Makes Birkenstock Beds And Mattresses Special
Birkenstock sleep systems use traditional elements found in the company's famous sandals to provide unparalleled comfort and body support. Just like the iconic cork footbeds in Birkenstock sandals, the company's slatted frames and mattresses also mold to the shape of the body. Each Birkenstock mattress includes a cork-latex layer for perfectly balanced comfort and regeneration of the body's musculoskeletal system.
"As the inventor of the footbed with its functional, orthopedic core expertise, Birkenstock has always stood for a healthy gait and stance. A subject that has always been close to our hearts: the expansion from anatomically shaped footbeds into anatomically shaped beds," the company's website states. "We want to ensure that you not only lie as comfortably as possible, but that you also sleep as soundly as possible thanks to Birkenstock sleep systems."
What To Expect From Birkenstock Sleep Systems
The Birkenstock bed collection consists of four box spring beds and two insert variants, all of which cater to diverse sleeping positions and requirements. All of the company's slatted frames are made from European beech, a unique material that makes them durable and permanently elastic. The sleep system also includes the same natural cork, dust-mite resistant latex, leather and fabric used in the production of Birkenstock sandals and shoes. Furthermore, each Birkenstock sleep system element is produced with the utmost care by craftsmen rather than being mass-produced.
Birkenstock sleep system mattresses and slatted frames will be available at select locations in Europe beginning this spring. Worldwide distribution, including in the United States, will follow shortly after.
For more information on Birkenstock sleep systems, visit the company's official website.
Notice concerning medical entries:
Articles having medical content shall serve exclusively for the purpose of general information. Such articles are not suitable for any (self-) diagnosis and treatment of individual illnesses and medical indications. In particular, they cannot substitute for the examination, advice, or treatment by a licensed physician or pharmacist. No replies to any individual questions shall be effected through the articles.