Speedy Made Shoes

Adidas Moves Back to Germany; Replaces Asian Workers w/ Robots

Athletic shoe and sportswear company Adidas has unveiled a new factory in Germany that uses robots rather than humans in Asia to make shoes.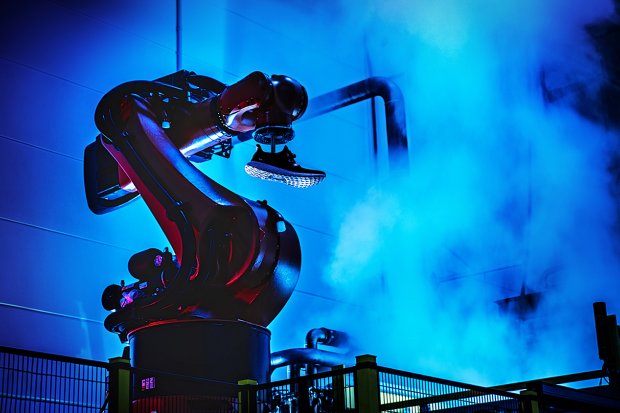 World-famous athletic shoe and sportswear company Adidas announced a huge business move this week: The brand will be moving back to Germany and will be replacing its Asian shoemakers with robots, effective immediately.
The company's chief executive, Herbert Hainer, recently unveiled the group's new prototype "speed factory" located in Ansbach, southern Germany, to the press and announced that from here on out, Adidas shoes will no longer be made by hand in Asia but rather via automate production, which will enable the shoes to be made more quickly and closer to sales outlets. The company also plans to open a second "speed factory" in the United States in 2017, when large-scale automate production of their shoes is set to begin. 
Why Do Germany And Robots Make Sense For Adidas?
Adidas is reportedly facing rising production costs in Asia, where it employs roughly one million workers. As fans of the brand may recall, the company closed its last shoe factory in Germany back in 1993 and opened several locations in lower-wage Asia, particularly throughout China and Vietnam. However, advances in robotics and automation means Adidas can afford to start producing in Germany once more.
"With the Adidas 'Speedfactory', we are revolutionizing the industry," says Hainer. " It's a constantly changing world out there and our consumers always want the latest and newest product – and they want it now. That's what Adidas 'Sppedfactory' delivers, starting right here in Germany, with best-in-class German technology."
Rival company Nike is also said to be developing a robot-operated shoemaking factory. 
Notice concerning medical entries:
Articles having medical content shall serve exclusively for the purpose of general information. Such articles are not suitable for any (self-) diagnosis and treatment of individual illnesses and medical indications. In particular, they cannot substitute for the examination, advice, or treatment by a licensed physician or pharmacist. No replies to any individual questions shall be effected through the articles.