Monsters On Parade

Halloween Foot Care For Kids: Safety First!

Something wicked this way comes, but it won't be a foot problem if you follow these Halloween foot care tips for kids.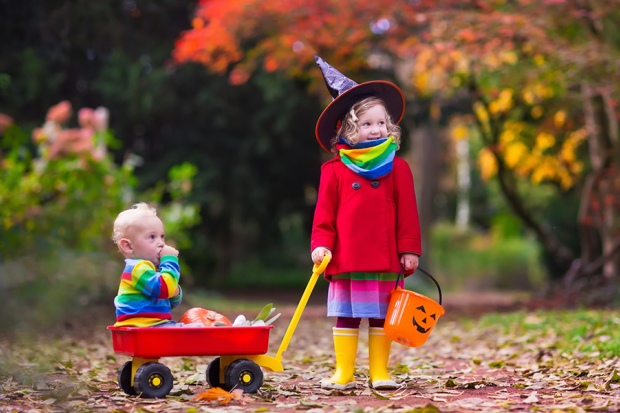 Halloween is scary enough without potential foot problems giving you and your kids a fright, as well. To make sure your little candy-loving ghosts and goblins keep their feet safe on All Hallow's Eve, add these kids foot care tips to your Halloween to-do list.
Make Sure Your Child's Feet Stay Warm And Dry
There's no doubt that your kids are going to beg and plead to wear costume-appropriate footwear during trick-or-treating, but it's best to stay strong and convince your little ones to wear comfortable, supportive shoes while they're collecting candy. Not only will good shoes keep their feet warm and comfy, they're more likely to protect the feet from danger like broken glass, slippery smashed pumpkins and wet leaves. Pair the footwear with warm, wool socks if it's a cold night and opt for waterproof shoes if it's wet and rainy. Frostbite is more likely than a vampire bite, even on Halloween.
Bonus Tip: Mention how much more candy your child will be able to carry if he or she wears good shoes!
Avoid Trips And Falls By Having Kids Stick To Well Lit Areas
It might be tempting to rush across dark lawns in order to get to the front door faster, but kids shouldn't be allowed in unlit areas that may contain holes or obstacles they can't see. Stick to well-lit sidewalks, streets and driveways to avoid potential injuries like sprained ankles. After all, it's supposed to trick-or-treat, not trip-or-fall. 
Bonus Tip: Make sure your child's costume isn't so long that they could trip and fall over the extra material. 
Use Reflective Tape To Avoid Your Child Being Run Over By A Car
Make no bones about it: Your kids should definitely wear reflective tape or other easily noticeable material on Halloween night. Data released by the US government shows that an average of five children get hit by cars nationally on Halloween night as opposed to 2.6 kids on all other nights of the year. And it's not just in obvious areas: Only 30% of Halloween automobile accidents occurred at intersections and crosswalks.
Bonus Tip: Avoid allowing your children to wear masks that limit their vision, because they're less likely to see cars and other potential danger.
Prohibit Cell Phone Use While Trick-Or-Treating
Halloween injury rates for tweens and teens is on the rise, with data suggesting it's partially due to texting and taking photos while on the go. When your kid's eyes are on his or her phone, they're less likely to notice obstacles, holes, cars, pumpkins, other kids and basically anything else that could pose a potential threat to their safety and well-being. 
Bonus Tip: Have kids carry a flashlight, instead.
Give Your Kid's Feet An End Of Night Treat, Too
No matter how careful you might be, your child may still complain about foot pain, blisters or other injuries as Halloween night comes to a close. A nice, warm foot soak can help with general foot pain and ward off a cold, while soothing aloe vera or vitamin E applied under a bandage can help with blisters. Unfortunately, neither can cure a candy-induced tummy ache! 
Notice concerning medical entries:
Articles having medical content shall serve exclusively for the purpose of general information. Such articles are not suitable for any (self-) diagnosis and treatment of individual illnesses and medical indications. In particular, they cannot substitute for the examination, advice, or treatment by a licensed physician or pharmacist. No replies to any individual questions shall be effected through the articles.