Shoe Smarts

Wolf & Shepherd Men's Dress Shoes Truly Are As Comfortable As Sneakers

You can literally run a marathon in a pair of ultra comfortable Wolf & Shepherd men's dress shoes, made by former Adidas and New Balance designer Justin Schneider. The miracle footwear looks like a dress shoe, but performs like a running shoe.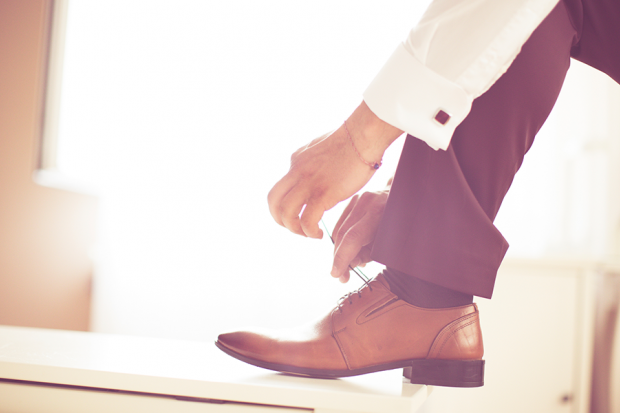 Men's dress shoes may not be as excruciating as women's stilettos, but many a businessman has wondered why his Oxfords can't be as comfortable as running shoes. Until now.
Thanks to Justin Schneider, former Adidas and New Balance sneaker designer and founder of the new Florida-based shoe startup called Wolf & Shepherd, men can finally feel comfortable in their dress shoes — without compromising the classic Italian silhoutte and style.
The fancy footwear incorporates hidden technology to make the business shoes as comfortable as possible, including a memory foam footbed, carbon fiber arch support, a high-density foam heel and rubber outsoles. The shoes are about a pound lighter than traditional dress shoes thanks to a Swiss insole and are nearly as flexible as running shoes due to the leather that is sourced from the same tannery that Louis Vuitton uses, the company says.
It all sounds convincing, but then again, marketing descriptions usually are. Fortunately for the company, the claim that Wolf & Shepherd shoes are just as comfortable as sneakers has actually been put to the test — and the shoes passed with flying colors. 
You Can Literally Run A Marathon In Wolf & Shepherd Shoes
In June of this year, NCAA Division runner Juris Silenieks wore Wolf & Shepherd dress shoes when he ran the "Hotlanta Half-Marathon" in Atlanta, Georgia. He managed to silence doubters of the company's claims when he set the unofficial Guinness World Record for the fastest half-marathon time in dress shoes (it will become official once GWR verifies the time information, which was 1:17:05).  
"We're not saying you should go run a half marathon in our shoes," Wolf & Shepherd founder Schneider says of the impressive results. "But you might have to run to catch the train or you might be late to a meeting and find that you need to pick up your pace a little."
For more information on Wolf & Shepherd dress shoes, which start at $325 per pair (which might sound pricey but is comparable to other well-made men's dress shoes), check out the video below or visit the company's official website.
WOLF & SHEPHERD from Wolf & Shepherd on Vimeo.
Notice concerning medical entries:
Articles having medical content shall serve exclusively for the purpose of general information. Such articles are not suitable for any (self-) diagnosis and treatment of individual illnesses and medical indications. In particular, they cannot substitute for the examination, advice, or treatment by a licensed physician or pharmacist. No replies to any individual questions shall be effected through the articles.