Tread Carefully

Elderly Care: Shoes Often The Cause Of Trips And Falls

The very shoes elderly people are often told to wear account for a large percentage of trips and falls.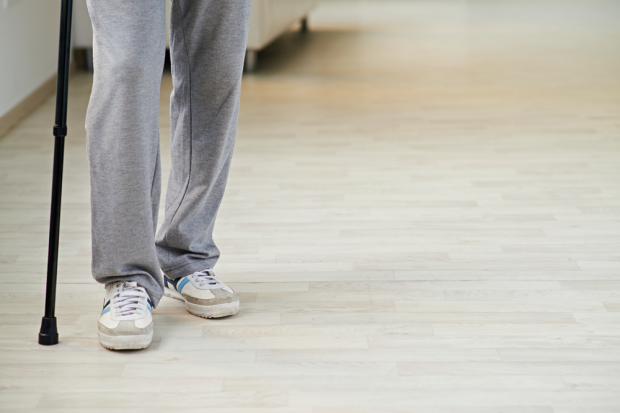 Trips and falls are unfortunately a common part of senior life, but research shows that wearing certain types of footwear can actually increase an aging adult's chances of falling — and you may be surprised that one of the culprits is athletic shoes.
Athletic Shoes Are One Of The Causes Of Falls In The Elderly
Due to the risk of falling and sustaining subsequent injuries like hip fractures, sprained ankles and dislocations, elderly people are often advised by their doctors to wear sturdy shoes with adequate traction. But sometimes the very footwear older adults choose actually adds to the problem. 
A study conducted by Dr. Carol Frey, director of the Foot and Ankle Center at Orthopedic Hospital in Los Angeles, and written about by the New York Times, found that out of 185 men and women over the age of 55 that were studied, shoes were the most common cause of falls in those over the age of 65. And many of the falls happened while the person in question was wearing "proper" shoes such as trainers.
According to the study, 60 percent of those who were wearing athletic shoes fell because a shoe caught or dragged on the floor. Meanwhile, 40 percent reported that the soles of their athletic shoes were too slippery. This, according to Frey, shows that "not all athletic shoes are desirable in all environments... for instance, bulky rubber soles worn on carpet can be hazardous while athletic shoes that are flat or worn are dangerous on wet surfaces."
Slippers And Socks Are Also Dangerous For Seniors
In addition to wearing the right type of athletic shoe for a given environment, experts warn that elderly people should also use caution when wearing slippers, socks without shoes, or going barefoot. 
A long-term cohort study from the Institute for Aging Research of Hebrew SeniorLife and MOBILIZE Boston concluded that over 50 percent of geriatric falls that occurred among study participants happened to those who were barefoot, wearing socks without shoes or wearing slippers. Due to the instability that comes along with those footwear choices (or lack thereof) and the increased risk of falls occurring, "it may be advisable for older individuals to wear shoes in their home whenever possible to minimize the risk of falling," says the study.
Adds Dr. Marian T. Hannan, D.Sc., M.P.H., co-director of the Musculoskeletal Research Center at the Institute for Aging Research and senior author of the Hebrew SeniorLife study: "More research is needed on the design of acceptable and comfortable footwear that provides optimal safety for older people... Recommendations such as wearing well-fitting, low-heeled shoes with slip-resistant soles seem sensible, but there is only limited data to support this advice. Designing an optimal shoe type for seniors will need to take into account such issues as foot problems and the ease of putting them on and taking them off."
For some helpful guidelines to follow when choosing geriatric footwear, check out our article Help Prevent Elderly Falls With These Shoe Shopping Tips.
Notice concerning medical entries:
Articles having medical content shall serve exclusively for the purpose of general information. Such articles are not suitable for any (self-) diagnosis and treatment of individual illnesses and medical indications. In particular, they cannot substitute for the examination, advice, or treatment by a licensed physician or pharmacist. No replies to any individual questions shall be effected through the articles.