Give 'Em The Boot

Fall's 12 Best Waterproof Boots For Men, Women and Children

Keep your feet warm and dry with these ultra weatherproof and waterproof boots: men's, women's and children's styles.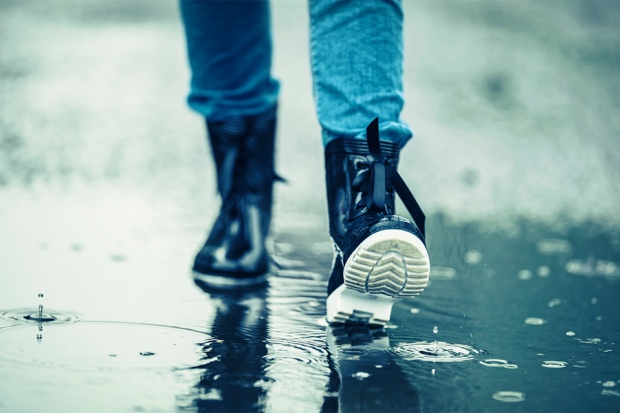 Some boots are made for walkin', but they better be made for much more than that when the weather turns cold, wet and nasty. Rather than opting for strictly style, men, women and children who live in cold, rainy climates need to turn to waterproof shoes that offer moisture protection and warmth in addition to wardrobe boosting elements. Luckily, there are plenty of good quality weatherproof and waterproof boots on the market that not only keep your feet warm and dry during fall and winter, but also keep you looking stylish.
1. Aigle Rubber Boots
For: Men, Women and Children
Aigle rubber boots stand out from the crowd because they're handcrafted in more than 60 stages and made from 100 perfect natural rubber rather than synthetic materials most other waterproof boots are made from. This makes them extremely durable, flexible and more comfortable than most budget brands.
2. Cougar Waterproof Boots
For: Men, Women and Children
Cougar guarantees that all of their boots and shoes are completely waterproof in even the wettest weather. All of their footwear is splash tested, and many of the boots keep wearers warm with temperature rated insulation.
3. Sorel Waterproof Boots
For: Men, Women and Children
Canadian company Sorel combines felt, wool and premium leather to make all-weather boots in a variety of styles — several of which are waterproof. Plus, you can feel good about your purchase because Sorel values ethical, sustainable manufacturing practices.
4. Mamahuhu Boots
For: Men, Women and Children
An artisan in Columbia hand makes all Mamahuhu boots from natural rubber outsoles, warm cotton linings and chromium-free leather. Some are even waterproof. "Every [pair of] shoes has its own attributes, and deserves to be treated personally to make sure all parts fit perfectly together and all the details are attended carefully," states the company's website. "The process is like creating a piece of art. Only those that are handmade by experienced artisans can reach such level of perfection.
5. L.L. Bean Weatherproof Boots
For: Men, Women and Children
Most east coasters already own a pair of L.L. Bean's classic Bean Boots, and for good reason: They're warm, stylish and weatherproof boots that promise great quality at an affordable price. Says the family-owned company's president, Steve Smith: "Our company founder, L.L., was adamant about testing each and every product to ensure it stood up to his rigid standards and of course his guarantee. To this day, employees throughout the company continue to rigorously test our products in the field. It not only ensures we maintain top quality, but it lets us walk in our customers' shoes, giving us a better perspective on their needs, wants and experiences. In addition, we have our own in-house, state-of-the-art testing laboratory, we utilize third-party testers and we use a small army of field testers throughout the world."
6. Hunter Rain Boots
For: Men, Women and Children
If luxury rain boots are what you're looking for, Hunter delivers. The British company has become a go-to for fashion-forward customers all over the globe with their multitude of styles of waterproof boots made for rainy days. In fact, they even hold two Royal Warrants of Appointment to Her Majesty The Queen and His Royal Highness The Duke of Edinburgh. 
7. Cole Haan Auden Waterproof Boots
For: Women
These beautiful Cole Haan boots are not only waterproof, they're elegant and versatile enough to wear with pretty much any fall outfit. Did we mention they're also flannel and shearling lined?!
8. Honey-X La Canadienne Shearling Booties
For: Women
These pull on shearling lined booties are waterproof and can be worn with the color up or pulled down for a fun, furry accent. They're a bit pricy, but worth every penny.
9. Sperry Boots
For: Men, Women and Children
Sperry has always been known for boat shoes, but the company became ultra popular in the world of fall and winter footwear via their Sperry Top-sider Boots. Now the company offers all kinds of weatherproof boots, from their Saltwater Duck Boots to their Walker Fog Rain Boots.
10. Oliberté Gando Boots
For: Men
Oliberté is the world's first fair-trade-certified shoe company and responsible for the ultra comfortable and warm Gando boot, made from both cow and goat leather. They're not completely waterproof, but reviewers agree it's still a strong choice for cold, wet weather.
11. Vegetarian Shoes
For: Men and Women
This animal-friendly shoe line offers a large variety of weatherproof and waterproof boots that will please both vegans and carnivores alike. U.S. customers who are interested may have to go through local suppliers to get their hands on products from the U.K.-based company.
12. Patagonia Boots
For: Men, Women and Children
Patagonia has become one of the world's most trusted outdoor brands offering a wide range of weatherproof and waterproof boots. Bonus: The company is known for its commitment to the environment, with its mission statement including the sentence, "Build the best product, cause no unnecessary harm, use business to inspire and implement solutions to the environmental crisis."
Notice concerning medical entries:
Articles having medical content shall serve exclusively for the purpose of general information. Such articles are not suitable for any (self-) diagnosis and treatment of individual illnesses and medical indications. In particular, they cannot substitute for the examination, advice, or treatment by a licensed physician or pharmacist. No replies to any individual questions shall be effected through the articles.