Pretty Ballerina

Watch What It Takes To Have Perfect Ballerina Feet

New York City Ballet dancer Lauren Lovette reveals the footcare routine she uses to keep her ballerina feet at the height of perfection.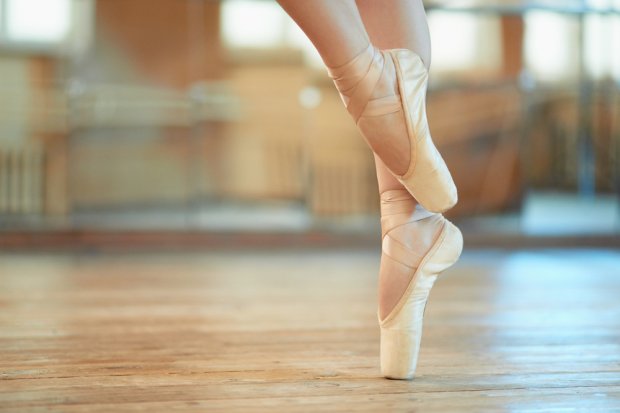 Hours and hours of dancing on pointe puts an incredible amount of stress on a ballerina's foot, meaning an ultimate foot care routine is a dancers' must. But what exactly do ballet dancers do to keep their feet in tip-top shape?
The routines are likely different from dancer to dancer, but New York City Ballet principal dancer Lauren Lovette has shared the steps she takes to keep her feet at the height of perfection.
Foot Care That Keeps A Ballerina On Her Toes
"When I wake up in the morning, sometimes my legs, my calves and ankles are swollen, and I try to eliminate that, so the first thing I do is use this stuff called arnica gel," she shares with Allure.
Next, she sews her ballet shoes — which she admits she often does when riding the subway — and breaks the soles of the specialty footwear.
"I use toe pads to protect my feet against blisters and everything. I mean, it's hard to stand on your toes all day, so this helps protect your toes so they're not as ugly as they would be," she says with a laugh.
However, because she clocks an average of six hours of dancing per day, blisters are unavoidable. Her secret product? Band-Aid blister pads. However, she also carries Tiger Balm, which helps protect the skin and cool sore muscles.
At the end of the day, Lovette uses doTERRA's Deep Blue, which is an essential oil blend that she says helps with muscle recovery. "It's like saying 'thank you' to your muscles after a long day," she shares, adding that the final foot treat she gives her tired tootsies is either a 20-minute warm foot bath or a 20-minute iced foot bath with Dr. Teal's Epsom salt.
To watch Lovette's full ballerina feet routine, check out Allure's video interview with the dancer below.
Notice concerning medical entries:
Articles having medical content shall serve exclusively for the purpose of general information. Such articles are not suitable for any (self-) diagnosis and treatment of individual illnesses and medical indications. In particular, they cannot substitute for the examination, advice, or treatment by a licensed physician or pharmacist. No replies to any individual questions shall be effected through the articles.