Feet Treat

7 Ways Pumpkin Benefits Your Foot Health
Pumpkins take the cake in Halloween decoration, but the nutrient-dense superfood offers health benefits, hydration and nourishment for your feet, too.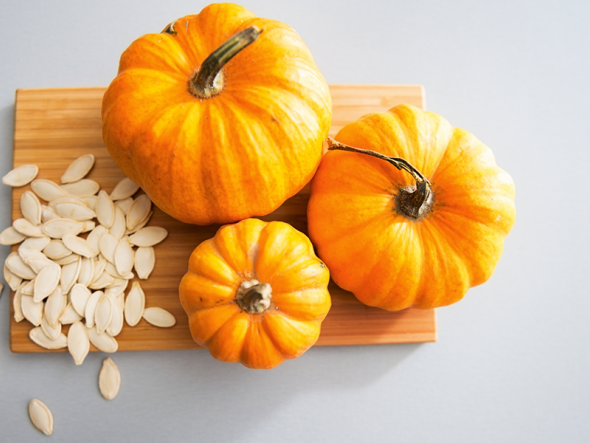 The health benefits of pumpkin are miraculous wonders for your feet. The fall superfood is ultra hydrating, exfoliating and nourishing for your soles and toes. Don't believe us? Check out these 7 ways pumpkins can boost your foot health, ranging from smoothing and regenerating your foot skin to strengthening all of the important bones in each foot.
Pumpkin Makes Your Feet Stronger
Pumpkins are chock full of Vitamin A, which not only promotes great vision, but also helps form and maintain bones when ingested. Considering 25% of your body's bones are located in your feet, pumpkin can go a long way in your overall foot health.
Pumpkins Can Smooth Your Foot Skin
Tired of corns, calluses and other unsightly patches of dead skin on your feet? Try eating more pumpkin. The fall plant is packed with vitamins A, B, E, and K — which are all great for plumping and hydrating the skin. Bonus: Pumpkin can also help tame the sigs of aging skin.
Pumpkin Can Halt Body Degeneration
Foot health is always important, but it becomes imperative as people age. Healthy feet mean elderly people are able to keep moving and stay active, which promotes a longer life and overall happiness. Foot problems that come along with aging not only slow older people down, they often lead to trips and falls that cause hospitalization, injury and even death. Pumpkins are rich in beta-carotene, which help delay the aging and body degeneration that often hits the feet first.
Pumpkins Dissolve Dry Skin
Foot skin gets a serious hydration boost when you ingest pumpkin, but your feet get an especially smoothing treat when pumpkin is used externally to polish flaky skin. The orange superfood is brimming with natural enzymes that help break down dry, cracked skin and promote cell regeneration. A pumpkin foot scrub application has the power to quickly transform dry, tired feet and leave them feeling baby soft.
Pumpkin Seeds Can Restore Toenail Health
Unhealthy, brittle nails have been linked to a biotin deficiency, something that can be fixed by ingesting biotin-rich pumpkin seeds. The nutty little wonders are also filled with zinc, which regulates the body's ability to make new proteins that eventually help form strong, healthy nails.
Pumpkin Can Soothe Swollen, Irritated Feet
Do your feet often hurt after long days at work? Try ingesting more pumpkin seeds. They're full of zinc, a mineral that has anti-bacterial and anti-inflammatory properties that have the power to soothe irritation.
Pumpkin Fights Diabetes, A Disease That Is Foot Health's Worst Nightmare
Diabetes is a serious health condition that affects millions of people, and the effects of the blood sugar disease on the feet are horrendous. Diabetes often leads to nerve damage, a loss of sensation in the feet, and reduced blood circulation. That means that simple foot issues like ingrown toenails, corns, calluses and minor injuries can easily go overlooked and quickly escalate into serious infections and health issues, including amputation. Pumpkin has recently been shown to help lower blood glucose levels when ingested, which encourages glucose tolerance and increases the body's insulin levels.
Notice concerning medical entries:
Articles having medical content shall serve exclusively for the purpose of general information. Such articles are not suitable for any (self-) diagnosis and treatment of individual illnesses and medical indications. In particular, they cannot substitute for the examination, advice, or treatment by a licensed physician or pharmacist. No replies to any individual questions shall be effected through the articles.