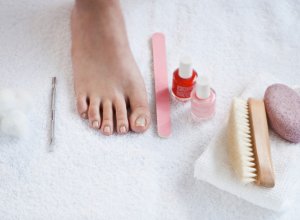 Tetra Images/Corbis
Pedicure
A pedicure is a cosmetic treatment for the feet and toenails. Similar to a manicure but for the feet, a pedicure typically includes a foot soak, callus removal, a short foot and leg massage, a toenail trim, application of cuticle oil and toenail polish. Sometimes pedicures also include the feet being dipped in paraffin wax, which is a strong moisturizer for the dry, cracked skin often found on the feet. 
Pedicures are done for a variety of reasons, including cosmetic, therapeutic and even medical purposes. They date back more than 4,000 years and have been given all around the world to people of all ages and both genders. The pedicure industry in the United States has experienced a boom in recent years: There were reportedly about 50,000 nail salons in the country in the year 2000 compared to over 200,000 nail salons today. 
There are several types of pedicures, including a spa pedicure, a stone pedicure, a French pedicure, a Shanghai pedicure, an athletic pedicure and a medical pedicure.  
For a complete list of pedicure options, read Footfile's article What Are the Different Types Of Pedicures, And Which Is Best?
Pedicures don't have to be done in a spa or salon. They can also be done at home with the proper tools, which makeup, skincare and cosmetic stores like Sephora and Sally Beauty Supply usually carry. These tools include a pumice stone for exfoliation and to remove calluses and dead skin, cuticle cream, a good quality moisturizing lotion and nail polish. 
Because regularly getting pedicures keeps the feet clean and healthy with well-trimmed nails, they've been said to help prevent nail diseases and nail disorders. However, pedicures and manicures done in unclean environments or in spas and salons that don't properly disinfect their footbaths and/or tools can actually lead to fungal infections. It also suggested that corns and calluses never be removed with sharp instruments, as this can lead to skin irritation, open wound and infection. 
Notice concerning medical entries:
Articles having medical content shall serve exclusively for the purpose of general information. Such articles are not suitable for any (self-) diagnosis and treatment of individual illnesses and medical indications. In particular, they cannot substitute for the examination, advice, or treatment by a licensed physician or pharmacist. No replies to any individual questions shall be effected through the articles.
More Articles On This Topic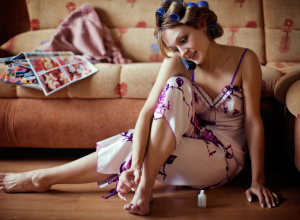 Pages