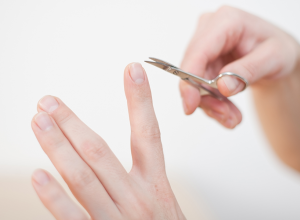 Gewitterkind/iStock
What Are Nail Scissors?
Nail scissors are a small, handheld device used for trimming and cutting fingernails and toenails. They're basically like any other pair of scissors, but the blades are much smaller due to the small size of typical nails.
Nail scissors are sometimes used in place of traditional nail clippers (which use a lever to assist in nail cutting) because they give the user greater ability to cut in the nail shape desired. Furthermore, they're thought to be healthier than nail clippers because they cut the nail straight across rather than smashing the nail from the top and bottom the way nail clippers are designed.
Nail scissors are also more attractive to nail enthusiasts because can also be used to cut off hangnails.
Notice concerning medical entries:
Articles having medical content shall serve exclusively for the purpose of general information. Such articles are not suitable for any (self-) diagnosis and treatment of individual illnesses and medical indications. In particular, they cannot substitute for the examination, advice, or treatment by a licensed physician or pharmacist. No replies to any individual questions shall be effected through the articles.