Sock It To 'Em

Exec Socks Steps Up Men's Sock World With Monthly Delivery

Exec Socks makes shopping for unique men's dress socks a breeze. The Netflix-for-the-sock-world company delivers fun socks to businessmen on a monthly basis.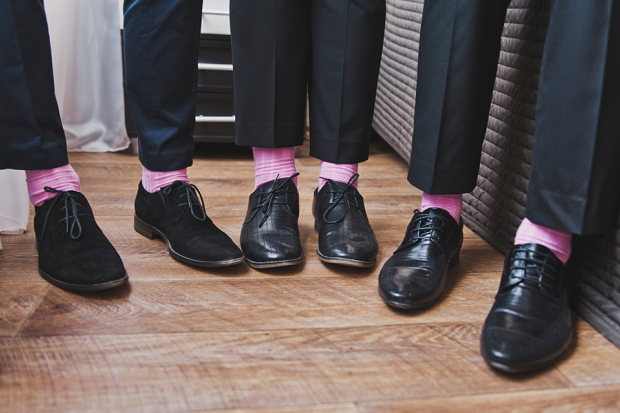 You've got Netflix for movies, Seamless for lunch, Uber for chauffeuring, and now you've got Exec Socks delivery service to keep your feet covered and happy.
The men's sock subscription service is targeted toward busy professionals who not only have limited time for sock shopping, but also want to jazz up their "respectable, proper" business attire with some colorful flair.
How Exec Socks Is Changing The Sock Game
"We provide sophisticated guys like yourself with a monthly sock subscription to a selection of distinctive, eye-catching socks," states Exec Sock's official website, with the company's CEO and founder, Suresh Bhagchandani, adding, "At GQ, a 26-year-old guy says, 'Socks are one of the exceedingly rare places of fashion where men are allowed to be bold in corporate jobs' … It's one of the few places you can show off your taste and your personality."
And The Prices Will Knock Your Socks Off
Businessmen looking to be bold, at least through their sock choices, can do so for a decent price: As Exec Sock's website spells out, customers can subscribe to get one pair of exclusively designed socks delivered to their door every month for $8, two pairs of socks per month for $15, or four pairs of socks per month for $25.
For more information and to subscribe to Exec Sock's monthly sock delivery service, check out the company's official website. 
Notice concerning medical entries:
Articles having medical content shall serve exclusively for the purpose of general information. Such articles are not suitable for any (self-) diagnosis and treatment of individual illnesses and medical indications. In particular, they cannot substitute for the examination, advice, or treatment by a licensed physician or pharmacist. No replies to any individual questions shall be effected through the articles.