Fox In Socks?

Baby Monitor Reviews: Are Sproutling And Owlet Baby Monitors A Safe Bet?

Experts say a baby monitor app has its limits, meaning tech devices like the Sproutling Baby Monitor and Owlet Baby Monitor Smart Sock might not be the safest way to prevent SIDS and keep tabs on your baby's sleeping vitals.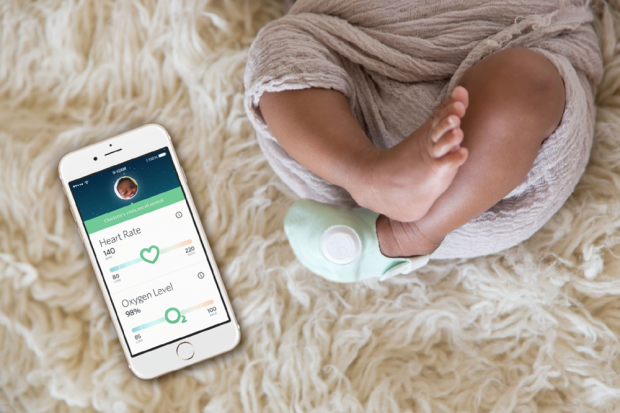 The new wearable baby foot monitors are all the rage, with products like the Sproutling Baby Monitor and Owlet Baby Monitor Smart Socks having sold out in stores across the country. But do the smart phone infant monitoring devices really offer the protection parents assume they do? Experts say a baby monitor app might not be the best way to go.
The Pros Of A Smart Phone Baby Monitor App
Technologically advanced monitoring devices like Sproutling Baby Monitors and Owlet Smart Socks are wearable baby monitors that measure things like an infant's heart rate, breathing rate, skin temperature, motion and position — data which is provided to a parent's smart phone and eliminates the "is my baby still breathing?" worry a lot of moms and dads face when their infants are sleeping. With Sudden Infant Death Syndrome (SIDS) being a common concern, the monitors have proven popular with parents who wish to avoid the scary condition.
Many parents are especially impressed with the Sproutling device, as it uses cues from a sleeping infant to predict a baby's sleep habits, optimal sleep conditions, estimated remaining sleeping time and possible disturbances. In addition, the wearable device's charging station helps optimize a baby's sleeping condition, including room temperature, humidity, sound and light levels.
Meanwhile, the Owlet Baby Monitor Smart Sock uses a common hospital technology called pulse oximetry, which alerts a parent if his or her baby stops breathing. The company claims its pulse oximetry technology, which uses pulses of LED light to measure heart rate and oxygen levels, has 120x less false alarms than a typical hospital pulse oximeter. The sock also alerts parents if a sleeping baby rolls onto his or her tummy.
The Cons of Smart Phone Baby Monitoring Devices
While smart phone infant monitors like the Sproutling Baby Monitor and Owlet Baby Monitor Smart Socks can provide parents with peace of mind while their baby is sleeping, experts warn they are not a stand in for regularly checking on your baby or other methods that help prevent SIDS. Additionally, The American Academy of Pediatrics warns that cardiorespiratory monitors should not be used to decrease the risk of SIDS.
David King, the author of an editorial report in the journal The BMJ and clinical lecturer in pediatrics at the University of Sheffield, warns that smart baby monitors and infant wearables provide a false sense of security to parents who purchase the products. The problem, according to King, is that parents assume the devices reduce the risk of SIDS, even though none of the devices outright claim to do so and none have proven they do so.
"Owlet states on its website that the device 'alerts you if something appears wrong with your baby's heart rate or the amount of oxygen in his/her body,'" King points out in the report. "Rest Devices claims that its products allows parents to see their 'baby's breathing patterns, in real-time.' Sproutling says that it will let you know 'if your baby is sleeping soundly or if something is wrong.' No published data support any of these claims, and because the devices are being sold as consumer rather than medical devices such data are not required. Ideally, manufacturers would be required to undertake observational studies or randomized trials to support any claims they make concerning the utility and efficacy of wearable devices in infants — even if they are categorized as consumer devices."
Owlet Baby Monitor Founder Responds
As one can imagine, the manufacturers of various smart baby monitor devices have vigorously defended their products. For example, after reading King's report, Owlet founder Kurt Workman responded with the following: "I have hundreds of comments from Owlet testers and none of them focus on SIDS. They just want to know if something is wrong. That's what pulse oximetry does in hospitals and in homes worldwide. Parents simply want something that can monitor their child pro-actively (something that video and sound can't do). As parents we're tired of monitors that only serve a purpose when we're awake. We want something that can le us rest easier. That's the purpose of Owlet and for many parents, it is worth the expense."
In the end, the important thing worth knowing is that smart monitoring devices are an extra way for parents to keep tabs on babies' vitals, but they are not a way to prevent SIDS. The technologically advanced monitors can bring parents more peace of mind, but they should not stand in for regularly checking in on a sleeping infant. Furthermore, as many experts point out, it is still important to keep to the tried and true "feet to foot" sleeping position, which has been proven to reduce a baby's chances of developing SIDS.
Honored to win a #bestdesignfc award in the Smart Home category from @FastCompany. http://t.co/gSupxUDr5s pic.twitter.com/ZYPyhLVT8m

— Sproutling (@sproutling) September 14, 2015
Notice concerning medical entries:
Articles having medical content shall serve exclusively for the purpose of general information. Such articles are not suitable for any (self-) diagnosis and treatment of individual illnesses and medical indications. In particular, they cannot substitute for the examination, advice, or treatment by a licensed physician or pharmacist. No replies to any individual questions shall be effected through the articles.