Adored Gourd

The DIY Pumpkin Foot Scrub Your Feet Will Die For

Pumpkin season isn't just for pies and PSLs. The fabulous fall staple makes a perfect pumpkin foot scrub that hydrates the feet and is easy to make at home.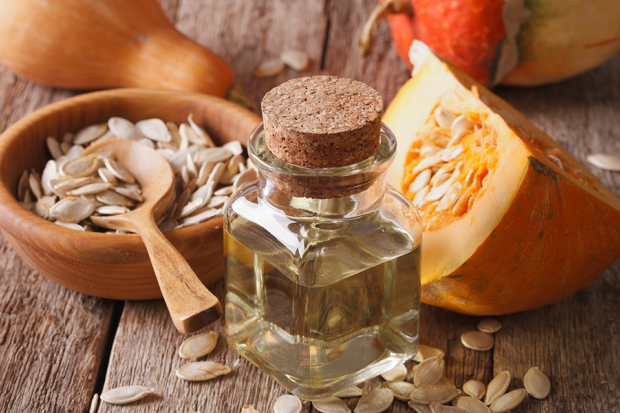 Before we even get into impressing you with our killer pumpkin foot scrub, we get it: The pumpkin craze has gotten out of control. When your hairstylist asks if you want pumpkin spice highlights and your local burger joint starts serving PSL burgers, it's a sign that perhaps it's time to move on to the next veggie trend (um, Brussels sprout gum, anyone?). 
But one place where it's perfectly ok — strike that, necessary — to keep the pumpkin trend going strong is in the world of foot care, especially when it comes to this essential pumpkin exfoliator for the feet (recipe below). After all, fall's favorite orange wonder is super charged with natural enzymes, which help it exfoliate rough patches from your dry, flaky feet. Pumpkins are also packed with vitamins A, B, E, and K — all of which are nourishing and hydrating for your foot skin. And let's not overlook those delicious pumpkin seeds, which have the power to promote skin elasticity and new cell growth. (Jeez, no wonder Cinderella rode around in one of these things; pumpkins are magic!)
RELATED: Why Autumn Is A Crucial Time To Love Your Feet
But just like a PSL needs whipped cream, a delicious pumpkin foot scrub needs help from a few other benefit-boosting buddies: a scoopful of brown sugar provides exfoliating alpha-hydroxy acids (AHAs); a dash of cinnamon and nutmeg gives anti-inflammatory properties; coconut oil moisturizes both the skin and nails; and honey provides a smooth cleanse.
So without further adieu, here's how to make your very own pumpkin foot scrub, the ultimate seasonal treat your feet will thank you for — from now, all the way through the holiday season.
Ingredients
½ cup of cooked, pureed pumpkin (canned or self made)
A handful of raw pumpkin seeds
½ cup brown sugar 
1 tablespoon of ground cinnamon
1 tablespoon of ground nutmeg
1 tablespoon of coconut oil
1 tablespoon of honey
Pour all of the ingredients into a blender and blend until smooth. If desired, add another ¼ cup of brown sugar to give your mix extra exfoliation power, or extra coconut oil to give it extra hydrating power. 
Method
Scoop out just enough of your pumpkin foot scrub mix to cover both feet and place in a small bowl. Use the mixture to scrub your feet, being sure to pay special attention to dry patches and your heels. 
Rinse off with warm water and pat dry.
Refrigerate any unused pumpkin foot scrub and use within 3 to 4 days. 
Notice concerning medical entries:
Articles having medical content shall serve exclusively for the purpose of general information. Such articles are not suitable for any (self-) diagnosis and treatment of individual illnesses and medical indications. In particular, they cannot substitute for the examination, advice, or treatment by a licensed physician or pharmacist. No replies to any individual questions shall be effected through the articles.