Pedicure Basics

The Difference Between A Spa Pedicure And A Regular Pedicure

A spa pedicure is like a regular pedicure on overdrive: It's a pedicure upgrade that leads to a more relaxing, pampering foot care experience.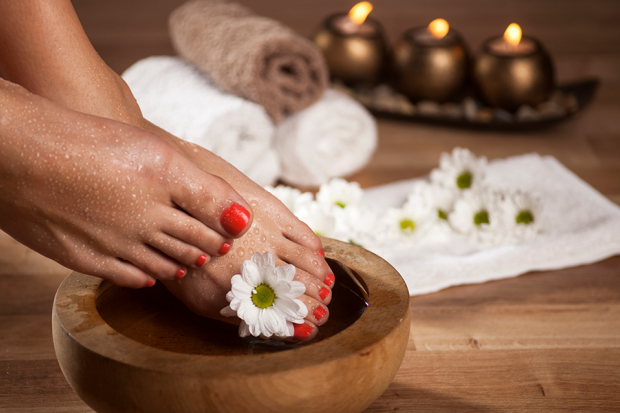 One of the most common questions pedicure newbies have is what is the difference between a spa pedicure and a regular pedicure. And the question is a valid one. After all, there's usually quite a bit of a price difference between the two different foot treatments, and most people don't really understand why. Fortunately, Footfiles has the answer to what makes a spa pedicure different from a regular pedicure: It's all about the upgrades.
Spa Pedicures Vs. Regular Pedicures
Here's a list of what typically comes along with a normal pedicure and how a spa pedicure bumps it up a notch.
Atmosphere: Most regular pedicures take place in nail salons that offer ghastly fluorescent lighting and loud televisions for ambience. A spa pedicure offers a much more luxurious setting that usually includes soft lighting from nice light fixtures, fancy pedicure chairs and some measure of privacy. Some spa pedicures also come with a full robe and slipper treatment, sparkling wine or water, and access to other spa facilities like the steam room and sauna.
Technician Attitude And Expertise: You should always be treated with the utmost respect during any pedicure, but spa pedicure technicians usually go the extra mile when it comes to service. A nail technician who regularly gives classic pedicures will most likely focus on the basics and have you out in a jiffy. Whereas nail technicians who perform spa pedicures typically spend a bit more time on the details, making sure you receive a high-quality, bubble-free pedicure that lasts while simultaneously appealing to all of a customer's senses. During a spa pedicure, you should receive a level of customer care that makes you feel pampered and special.
Pedicure Procedure: As we mentioned above, a regular pedicure tends to focus on the basics: a quick foot soak, foot scrub, nail trim/file, and painting of the nails. A spa pedicure, however, bumps everything up a notch. Each spa pedicure is different, but examples of extras customers might receive include essential oils or aromatherapy oils sprinkled into the footbath, an extra long foot/leg massage, a detailed chisel of calluses and other foot issues, extra time spent perfecting the nails during nail trimming, a hot towel wrap, luxury brand foot lotion and possibly a paraffin wax dip. 
Pedicure Time: Most regular pedicures last anywhere from 30 to 60 minutes, while spa pedicures typically take longer. Each spa procedure is different, but most spa pedicures last anywhere from 60 to 90 minutes. 
But, A Spa Pedicure Isn't Necessarily "Better"
While a spa pedicure is oftentimes a longer, more luxurious foot care experience, it's not automatically better than a regular pedicure. Many salons offer quality classic pedicures, and many people actually prefer the shorter experience as opposed to the whole spa shebang. The most important thing is that as the customer, you feel like you're getting quality service in a clean environment. 
Notice concerning medical entries:
Articles having medical content shall serve exclusively for the purpose of general information. Such articles are not suitable for any (self-) diagnosis and treatment of individual illnesses and medical indications. In particular, they cannot substitute for the examination, advice, or treatment by a licensed physician or pharmacist. No replies to any individual questions shall be effected through the articles.