Hello, Beautiful

A 5-Day Plan To Get Your Feet Totally Spring Ready

Try this step-by-step guide to give your feet a bright and shiny spring debut.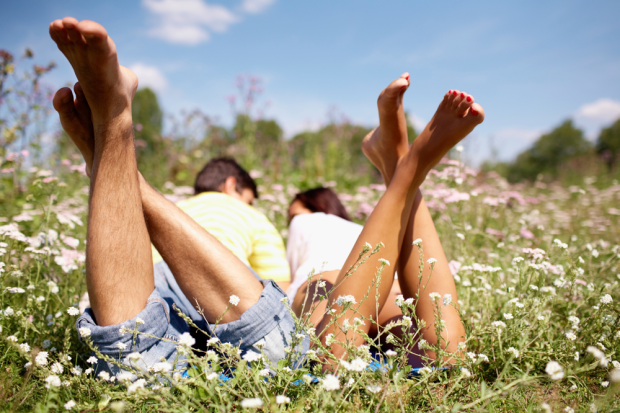 Spring and summer are fast upon us, meaning it's time to once again shed those socks and unveil your feet to the bright and shiny world. But this time around, there's no need to worry if months of neglect have left your feet cracked, callused and dry: Our 5-Day Foot Plan will have your tootsies soft, supple and sandal ready before the tulips even think about reaching full bloom. 
Day One: Soothe Your Feet With A Skin Softening Footbath 
The perfect way to jumpstart your springtime foot care is with a super-softening footbath. Soaking your feet in a bath of warm water for 15 to 20 minutes not only begins to break down tough corns, calluses and heel fissures, it also boosts circulation and brings a healthy glow to your soles and toes. Adding Epsom salt, fresh herbs, citrus and essential oil boosts the calming, relaxing benefits of a footbath, further helping to loosen your muscles and aid circulation. 
After soaking your feet, follow up with some serious skin care such as a callus peeling product, a moisturizing exfoliate or a foot cream containing lactic acid. Cover your feet with cotton socks and leave on for several hours or overnight.
Day Two: Apply Cream Day and Night
Well cared for foot skin isn't only soft and beautiful, it's also better prepared to ward off common foot issues like blisters, calluses, plantar warts and fungal infections like athlete's foot. Applying a high-quality cream to your feet both day and night helps repair cracked skin that leaves your feet vulnerable to infections and leaves your tootsies healthy and supple. Start your day by applying an easily-absorbable foot lotion after showering, and end your day by applying a more intensive foot cream before bed. Do this every day during your 5-Day Foot Plan and every day afterward to keep your feet happy and healthy all summer long.
Day Three: Tackle Resistant Corns and Calluses
Most corns and calluses will have responded to your foot treatments by day three and should be significantly reduced and softened. However, if stubborn corns and calluses remain, you may want to consider an intensive treatment to help smooth the tough, dead skin. There are several home remedies you can try to reduce the severity of corns and calluses (aspirin, Vitamin E and bread being a few options), as well as over-the-counter products made to specifically tackle resistant patches of rough, dry skin. Most remedies — store bought or homemade — require a couple of days of treatment.
Additionally, you can try using a pumice stone, foot file or electric callus remover to help slough off the dead skin.
Day Four: Indulge In A Pedicure
At this point, you've given your feet the perfect TLC to prep them for a pedicure. Your skin is soft, your calluses are (mostly) gone, and any ingrown toenails you may have had have soaked and loosened from the surrounding skin. Now is the perfect time to indulge in a pedicure, either at a nail salon or at home with a DIY method. 
If you opt for a professional treatment, be sure to read our article Springtime Pedicures: What You Should Know Before You Go. There are many hidden dangers lurking at even the most high-end nail salons and spas, so it's best to prepare yourself before accidentally being exposed to bacteria and fungus. 
If you opt for a DIY pedicure, you may want to consider this this Organic Pedicure for spring-worthy feet. It's easy to do at home, and it'll help you save your pennies for a killer spring break trip! 
Day Five: Arm Yourself With Protective Foot Gear
Now that your feet are ready for spring and summer, it's time to gather an arsenal of supplies to keep them soft, healthy and pain free. A few helpful items to have on hand include:
Comfortable, supportive summer shoes
Just-in-case blister plasters or bandages
Sunscreen
A small, portable tube of foot cream
Baby wipes for impromptu cleaning and freshening
Clear nail polish for pedicure touchups 
And voilà: Perfectly happy and healthy feet ready for spring and beyond! 
Notice concerning medical entries:
Articles having medical content shall serve exclusively for the purpose of general information. Such articles are not suitable for any (self-) diagnosis and treatment of individual illnesses and medical indications. In particular, they cannot substitute for the examination, advice, or treatment by a licensed physician or pharmacist. No replies to any individual questions shall be effected through the articles.